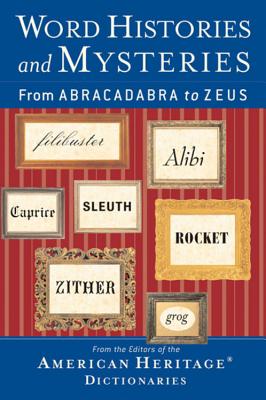 Word Histories and Mysteries (Paperback)
From Abracadabra to Zeus
Houghton Mifflin Harcourt, 9780618454501, 368pp.
Publication Date: October 13, 2004
* Individual store prices may vary.
Description
Did you know that cats are related etymologically to caterpillars? Or that Thomas Edison played a key role in popularizing the use of the greeting "Hello"? Or that muscles were originally mice, since a flexed biceps looks like a little rodent scurrying under the skin?

Word Histories and Mysteries provides a panoramic view of the unique richness of English, uncovering the origins of five hundred everyday words whose surprising and often amusing stories offer insights into the history of humankind. Arranged in convenient alphabetical order, the notes are written in a lively and entertaining style perfect for browsing. The reader can learn how some of the most recent words, such as the computer term wiki, were coined, or trace the origins of English back to the Indo-European language spoken long before the invention of writing.

A short introduction outlines the techniques linguists use to trace the history of words, and a handy glossary explains the linguistic terms that describe the ways in which language changes over time. Photographs and drawings help familiarize the reader with the ancient objects or cultural practices from which our words have sprung.

Fascinating and fun to read, Word Histories and Mysteries is an ideal gift for high school or college students interested in language and for anyone who wants to know more about the curious sounds we make to communicate every day.

About the Author
The Editors of the American Heritage Dictionaries are a team of professional lexicographers with advanced degrees in various scholarly fields. The editors familiarize themselves with the vocabulary in specific subject areas, collect materials on new developments and usage, and work with expert consultants to ensure that the content of our publications is as accurate and as up-to-date as possible.