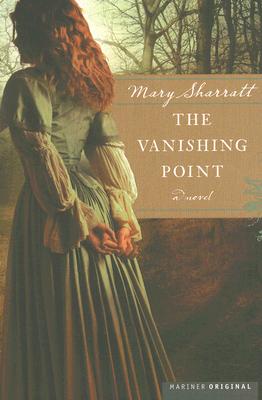 The Vanishing Point
Paperback

* Individual store prices may vary.
Description
In the tradition of Philippa Gregory's smart, transporting fiction comes this tale of dark suspense, love, and betrayal, featuring two star-crossed sisters, one lost and the other searching.

Bright and inquisitive, Hannah Powers was raised by a father who treated her as if she were his son. While her beautiful and reckless sister, May, pushes the limits of propriety in their small English town, Hannah harbors her own secret: their father has given her an education forbidden to women. But Hannah's secret serves her well when she journeys to colonial Maryland to reunite with May, who has been married off to a distant cousin after her sexual misadventures ruined her marriage prospects in England.

As Hannah searches for May, who has disappeared, she finds herself falling in love with her brother-in-law. Alone in a wild, uncultivated land where the old rules no longer apply, Hannah is freed from the constraints of the society that judged both her and May as dangerous—too smart, too fearless, and too hungry for life. But Hannah is also plagued by doubt, as her quest for answers to May's fate grows ever more disturbing and tangled.
Mariner Books, 9780618462339, 384pp.
Publication Date: June 2, 2006
About the Author
MARY SHARRATT, the author of seven critically acclaimed novels, is on a mission to write strong women back into history. Her novels include Daughters of the Witching Hill, the Nautilus Award–winning Illuminations: A Novel of Hildegard von Bingen,The Dark Lady's Mask: A Novel of Shakespeare's Muse, and Ecstasy, about the life, loves, and music of Alma Mahler. She is an American who lives in Lancashire, England.
 
May and Hannah lost their mother when they were very young, and in her absence their lives followed very different paths. While May often spent her time in the care of Joan, the housekeeper, Hannah was educated by her physician father, despite laws that forbade women from studying medicine. Why do you suppose the sisters were raised so differently? What prompted Dr. Powers to train his younger daughter in the sciences?
Dr. Powers arranges the marriage between May and her American cousin, Gabriel Washbrook. Do you agree that this is the best solution to May's problems? Would you have reacted as May does when she realizes that she and her only sister will be separated by an ocean? Do you believe that May, on leaving England, truly expects to see Hannah again? Why or why not?
At its core, The Vanishing Point is about the relationship between two sisters, each in her own way constrained by the social standards of the time. How might their lives have been different if they had been born at another time? Which sister was better equipped to handle life in the New World — May, with her sense of adventure and feminine wiles, or Hannah, with her medical training and scientific reasoning?
Mary Sharratt evokes life in colonial Maryland in rich detail. Fascinating descriptions of social customs, recipes, and medical practices are woven throughout the novel; how do they add to your understanding of Hannah's world? How do they enhance your reading experience? What surprising differences did you find between life then and today?
After a long, lonely journey from England to America, Hannah arrives at the Washbrook Plantation only to discover that her sister is missing. Indeed, nothing is as she thought it would be. Why does Hannah stay on the estate? Would you have stayed? How is Hannah's life in Maryland governed by May's absence?
What prompts Hannah to bake the apple tansey and take it to Gabriel in the field? How does this small exchange alter the course of their relationship? When do other large decisions hinge on small actions in The Vanishing Point?
As you learn more about May's marriage to Gabriel, what do you think of their pairing? Does this knowledge have any bearing on the way you view Hannah's relationship with Gabriel? Are you surprised by Hannah's choices in that regard?
How do your feelings about Gabriel evolve as you read the book? Do you sympathize with him?
Hannah and May are two very different sisters whose lives and destinies are shaped by the same man, Gabriel. Yet these sisters, one after the other, both irrevocably change Gabriel's life. In what ways do these three characters transform one another? If The Vanishing Point is a story of love and betrayal, who commits the ultimate betrayal — and against whom? What relationship marks the emotional center of the book for you — the relationship between Hannah and May, or between Hannah and Gabriel?
As the only women on their wilderness homestead, May and Adele forge a tight bond that transcends class and race. Does Adele eventually usurp Hannah's place in May's heart? Who ultimately shows May the greatest love and loyalty — Adele or Hannah?
Given what you know of life in the colonies — its moral codes, double standards, and hardships — do you think Gabriel and Hannah are at an advantage or a disadvantage living so far away from society? How might their lives have been different if the Washbrooks had stayed in Anne Arundel Town after Gabriel's mother died?
What are Banham's motivations for visiting Hannah on the plantation? Do you think Gabriel's reaction to his visits is defensible? Are the Banhams as reprehensible as Gabriel makes them out to be?
How does Hannah succeed — or not — in fulfilling her highest purpose? Does she finally achieve her full potential in pursuing an independent life, or does she betray her own heart?
What do you think about the revelations at the end of the book? Which character — Hannah, May, Gabriel, or Adele — comes closest to achieving an independent, self-governed life in America?