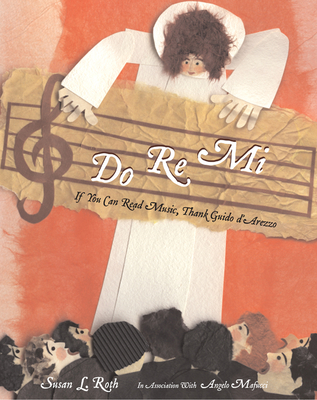 Do Re Mi: If You Can Read Music, Thank Guido D'Arezzo (Hardcover)
If You Can Read Music, Thank Guido D'Arezzo
Houghton Mifflin, 9780618465729, 40pp.
Publication Date: January 1, 2007
Description
If you can read musical notes, you can sing any song or play any piece. But musical notes have not always been here. Long ago, songs were memorized. If songs were forgotten, they were lost forever.
Thanks to one man, Guido d'Arezzo, music now can last forever.
Praise For Do Re Mi: If You Can Read Music, Thank Guido D'Arezzo…
A sublime blend of education and entertainment.
Kirkus Reviews

An appealing, accessible, and throught-provoking introduction to a rarely covered subject.
Booklist, ALA

"Roth's naif collages, populated by doll-like figures, quickly shoo away any misgivings that music history could be a bore, and make a marvelous counterpoint for her carefully researched prose." Publishers Weekly

"The language is simple and intimate. . .wonderful colors and fibers. . .attractive."

School Library Journal

"A gifted author-illustrator offers a lovely picture book...Her collage illustrations are always interesting." Buffalo News

Roth winningly narrates the ups and downs of Guido's efforts to work out his ideas and get them accepted. But it's the illustrations that really make the book sing: torn-paper collages wittily celebrating musical marks everywhere, from the staff lines of plowed furrows and stripey sunset clouds to the O-shaped mouths of chanting monks.
The Washington Post

"It's edgy and childlike at the same time, a quirky approach to a quirky subject." The San Francisco Chronicle
Advertisement