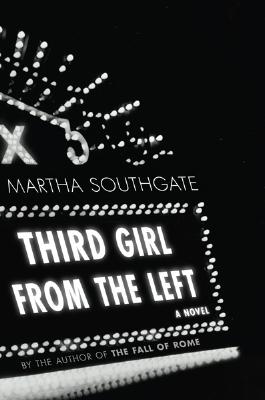 Third Girl from the Left
Hardcover

* Individual store prices may vary.
Other Editions of This Title:
Paperback (9/5/2006)
Description
The New York Times hailed Martha Southgate's previous novel, The Fall of Rome, as "powerful," O, the Oprah Magazine called it "quietly accomplished," and Essence lauded it as "a bracingly honest look at race, class, and self-acceptance." With Third Girl from the Left, Southgate brings her acute vision and emotional scope to a larger canvas. This enormously entertaining yet serious novel tells a story of African-American women struggling against all odds to express what lies deepest in their hearts. Like Michael Chabon's The Amazing Adventures of Kavalier and Clay or E. L. Doctorow's Ragtime, it ranges freely through time, fact, and fiction to weave an enthralling story about history and art and their place in the lives of three women. "My mother believed in the power of movies and the people in them to change a life, to change her life." So explains Tamara, daughter of Angela, granddaughter of Mildred — the three women whose lives are portrayed in stunning detail in this ambitious novel spanning three generations of one family.
Tulsa, Oklahoma, in 1970 is not a place a smart black girl wants to linger. For Angela, twenty years old and beautiful, the stifling conformity is unbearable. She heads to Los Angeles just as blaxploitation movies are pouring money into the studios and lands a few bit parts before an unplanned pregnancy derails her plans for stardom.
For Mildred, movies have always been a blessed diversion in a life marked by the legacy of the 1921 Tulsa race riots. But after Angela leaves Tulsa following a bitter fight, the distance between them grows into a breach that remains for years. It falls to Tamara, a budding documentarian — raised in LA by Angela as though they have no family, no history — to help mother and grandmother confront all that has been silenced and left unsaid in their lives.
A bold, beautifully written, and deeply involving novel, Third Girl from the Left deftly examines the pull of the movies, the power of desire, and the bonds of family in a quintessentially American story.
Praise For Third Girl from the Left…
"Gutsy and riveting...The best kind of page-turner, layered with so much authentic detail...What a wonderful story." --Julia Glass, author of Three Junes

"As intense and serious as it is fun and fabulous, Southgate...once again penetrates a hidden world with devastating accuracy." --ZZ Packer, author of DRINKING COFFEE ELSEWHERE

"THIRD GIRL FROM THE LEFT is a powerful testament to mothers and daughters, and how differently we all dream." --Veronica Chambers, author of MISS BLACK AMERICA

"Martha Southgate's THIRD GIRL FROM THE LEFT is a marvelous combination of the movies that inspired it. . .elegant . . . electric." --Ayelet Waldman, author of Daughter's Keeper

"A compelling saga of love, film and family secrets...the three plotlines [Southgate] deftly weaves into a richly textured whole." Kirkus Reviews

"A graceful, insightful novel." --Lisa Shea Elle

"Third Girl From the Left gives us the flip side of Hollywood's glitz and glamour.....A gripping tale." --Margaret Williams, Essence

"Southgate makes [her] women imperfect enough to be interesting, but gives them enough heart so they're sympathetic...Delicious details abound." --Chelsea Cain The New York Times Book Review

"Vivid and spirited....Entertaining, occasionally racy and moving when you least expect it to be." --Stephanie Zacharek Newsday
Houghton Mifflin Harcourt, 9780618470235, 288pp.
Publication Date: September 1, 2005
or
Not Currently Available for Direct Purchase