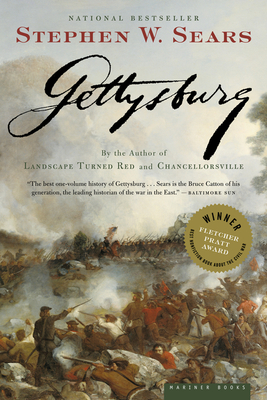 Gettysburg (Paperback)
Mariner Books, 9780618485383, 640pp.
Publication Date: November 3, 2004
Other Editions of This Title:
Digital Audiobook (8/18/2011)
* Individual store prices may vary.
Description
The greatest of all Civil War campaigns, Gettysburg was the turning point of the turning point in our nation's history. Volumes have been written about this momentous three-day battle, but recent histories have tended to focus on the particulars rather than the big picture: on the generals or on single days of battle—even on single charges—or on the daily lives of the soldiers. In Gettysburg Sears tells the whole story in a single volume. From the first gleam in Lee's eye to the last Rebel hightailing it back across the Potomac, every moment of the battle is brought to life with the vivid narrative skill and impeccable scholarship that has made Stephen Sears's other histories so successful. Based on years of research, this is the first book in a generation that brings everything together, sorts it all out, makes informed judgments, and takes stands. Even the most knowledgeable of Civil War buffs will find fascinating new material and new interpretations, and Sears's famously accessible style will make the book just as appealing to the general reader. In short, this is the one book on Gettysburg that anyone interested in the Civil War should own.
About the Author
STEPHEN W. SEARS is the author of many award-winning books on the Civil War, including Gettysburg and Landscape Turned Red. A former editor at American Heritage, he lives in Connecticut.
Praise For Gettysburg…
"An outstanding battle study...This book...is absolutely indispensable for the well-versed." Publishers Weekly

"A fine study, detailed and challenging, that complements such popular accounts of the battle as Bruce Catton's Glory Road and Shelby Foote's The Stars in Their Courses." Kirkus Reviews

"The book's strength is the consistent and striking characterizations of the many generals and commanding officers involved in the battle." Library Journal

"Readers thrilled by the minute details of battlefield maneuvers will be thoroughly engaged." Booklist, ALA

"Sears does much more than reconstruct events. He gives battlefield maneuvers deeper meaning and purpose because of his deep appreciation for context and the human dimension of history." --Peter Carmichael, American History Magazine

"[Sears gives] us a panoramic view, and in his vivid portrayal the day unfolds in all its horrible detail." --Jay Winik The New York Times Book Review

"A first-class writer and splendid historian--a combination to be cherished--gives us the best book on America's most famous battle." The Wall Street Journal