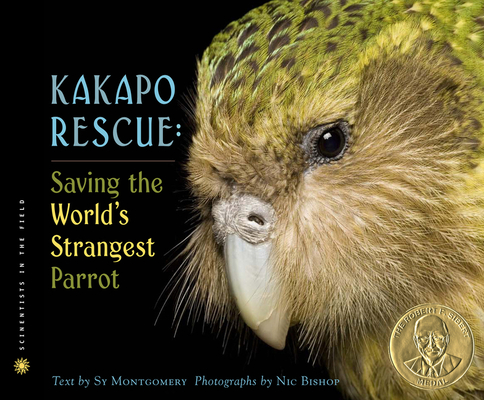 Kakapo Rescue
Saving the World's Strangest Parrot (Scientists in the Field)
Hardcover

* Individual store prices may vary.
Other Editions of This Title:
Digital Audiobook (6/12/2014)
Paperback (5/3/2016)
Prebound (5/3/2016)
Description
2011 Sibert Medal Winner
On remote Codfish Island off the southern coast of New Zealand live the last ninety-one kakapo parrots on earth. These trusting, flightless, and beautiful birds—the largest and most unusual parrots on earth—have suffered devastating population loss.
Now, on an island refuge with the last of the species, New Zealand's National Kakapo Recovery Team is working to restore the kakapo population. With the help of fourteen humans who share a single hut and a passion for saving these odd ground-dwelling birds, the kakapo are making a comeback in New Zealand.
Follow intrepid animal lovers Sy Montgomery and Nic Bishop on a ten-day excursion to witness the exciting events in the life of the kakapo.
Praise For Kakapo Rescue: Saving the World's Strangest Parrot (Scientists in the Field)…
"Under the careful supervision of forest rangers and volunteers on an island off the New Zealand coast, the nearly extinct, flightless Kakapo parrot is the object of an intensive rescue effort described by this experienced writer-photographer team...As always, the photographer's remarkable and clearly reproduced photographs support and enhance the text. The book's careful design is unobtrusive: The progress of an opening egg sets off page numbers, and fern patterns provide a subtle decoration. Bibliography and a website encourage readers' further explorations. Wonderful."— Kirkus, starred review

"Montgomery's delight in her subject is contagious, and throughout her enthusiastic text, she nimbly blends scientific and historical facts with immediate, sensory descriptions of fieldwork. Young readers will be fascinated."—Booklist, starred review "Take a parrot. Color it green. Give it soft, fluffy feathers, and whiskers. Give it sumo proportions and take away its power of flight. Make it nocturnal, and have it nest underground. Aha! A kakapo!...Excellent photos and a readable, conversational text provide an intimate look at a concerted effort to save a drastically endangered species unfamiliar to most of the world outside Down Under. Readers who enjoyed this author/photographer team's The Tarantula Scientist (2007) or Quest for the Tree Kangaroo (2006, both Houghton) will gobble up this tribute to ecological science in action." —School Library Journal, starred review

"More than most books about environmentalism or endangered species, this will encourage kids to consider how hands-on action can genuinely make a difference and how scientific contributions can be made by people who never go near a test tube."—The Bulletin, starred review —
Clarion Books, 9780618494170, 80pp.
Publication Date: May 24, 2010
About the Author
In addition to researching films, articles, and over twenty books, National Book Award finalist Sy Montgomery has been honored with a Sibert Medal, two Science Book and Film Prizes from the National Association for the Advancement of Science, three honorary degrees, and many other awards. She lives in Hancock, New Hampshire, with her husband, Howard Mansfield, and their border collie, Thurber.
Website: symontgomery.com
Twitter: @SyTheAuthor.     

Nic Bishop, who holds a doctorate in the biological sciences, is the photographer of many acclaimed books for children. He lives in Auckland, New Zealand.Visit his website at: nicbishop.com