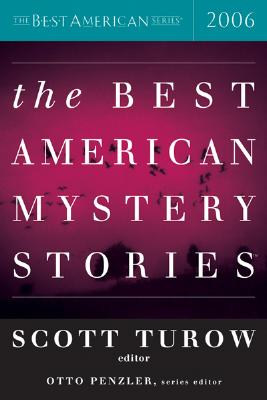 The Best American Mystery Stories 2006 (The Best American Series ®) (Paperback)
Mariner Books, 9780618517473, 384pp.
Publication Date: October 11, 2006
Other Editions of This Title:
Paperback (10/8/2008)
Paperback (10/10/2003)
Paperback (10/30/1998)
Paperback (10/14/2004)
Paperback (10/10/2001)
Paperback (10/10/2007)
Paperback (10/19/2000)
Paperback (10/2/2012)
Paperback (10/5/2010)
Paperback (10/7/2014)
Hardcover (10/14/2004)
Hardcover (10/7/2014)
Compact Disc (10/1/2004)
* Individual store prices may vary.
Description
"[Most of] these stories are portraits, in styles ranging from sly to harrowing, of how crimes occurred ... If you like all your characters living at the end of a story, this may not be the book for you." -- from the introduction by Scott Turow

Best-selling author Scott Turow takes the helm for the tenth edition of this annual, featuring twenty-one of the past year's most distinguished tales of mystery, crime, and suspense.

Elmore Leonard tells the tale of a young woman who's fled home with a convicted bank robber. Walter Mosley describes an over-the-hill private detective and his new client, a woman named Karma. C. J. Box explores the fate of two Czech immigrants stranded by the side of the road in Yellowstone Park. Ed McBain begins his story on role-playing with the line "'Why don't we kill somebody?' she suggested." Wendy Hornsby tells of a wild motorcycle chase through the canyons outside Las Vegas. Laura Lippman describes the "Crack Cocaine Diet." And James Lee Burke writes of a young boy who may have been a close friend of Bugsy Siegel.

As Scott Turow notes in his introduction, these stories are "about crime -- its commission, its aftermath, its anxieties, its effect on character." The Best American Mystery Stories 2006 is a powerful collection for all readers who enjoy fiction that deals with the extremes of human passion and its dark consequences.
About the Author
OTTO PENZLER is a renowned mystery editor, publisher, columnist, and owner of New York's The Mysterious Bookshop, the oldest and largest bookstore solely dedicated to mystery fiction. He has edited more than fifty crime-fiction anthologies. He lives in New York.