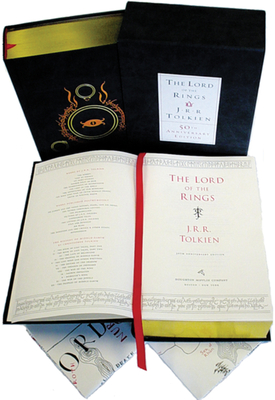 The Lord of the Rings (Hardcover)
50th Anniversary Edition
Houghton Mifflin Harcourt, 9780618517657, 1184pp.
Publication Date: October 21, 2004
Other Editions of This Title:
Multiple copy pack (3/3/1988)
Paperback (10/12/2005)
CD-Audio (7/11/2012)
Hardcover (10/12/2005)
Paperback (8/14/2012)
Multiple copy pack (6/1/2005)
Compact Disc (12/16/2014)
Hardcover, Korean (6/1/2010)
Paperback (5/1/2001)
Hardcover (5/1/2001)
Hardcover, Korean (7/1/2010)
Hardcover (7/1/2003)
Boxed Set (9/1/2003)
Paperback (7/1/2003)
Compact Disc (9/1/2008)
Paperback (6/1/1999)
* Individual store prices may vary.
Description
The Fellowship of the Ring, part one of J.R.R. Tolkien's epic masterpiece, first reached these shores on October 21, 1954, arriving, as C. S. Lewis proclaimed, "like lightning from a clear sky." Fifty years and nearly one hundred million American readers later comes a beautiful new one-volume collector's edition befitting the stature of this crown jewel of our list. With a text fully corrected under the supervision of Christopher Tolkien to meet the author's exacting wishes, two large-format fold-out maps, a ribbon placemarker, gilded page edges, a color insert depicting Tolkien's own paintings of the Book of Mazarbul and exceptionally elegant and sturdy overall packaging housed within an attractive slipcase, this edition is the finest we've ever produced.
About the Author
J.R.R. TOLKIEN (1892–1973) is the creator of Middle-earth and author of such classic and extraordinary works of fiction as The Hobbit, The Lord of the Rings, and The Silmarillion. His books have been translated into more than fifty languages and have sold many millions of copies worldwide.
Praise For The Lord of the Rings: 50th Anniversary Edition…
"An extraordinary work--pure excitement..." The New York Times Book Review

"A work of immense narrative power that can sweep the reader up and hold him enthralled for days and weeks." The Nation

"J.R.R. Tolkien's epic trilogy remains the ultimate quest, the ultimate battle between good and evil, the ultimate chronicle of stewardship of the earth. Endlessly imitated, it has never been surpassed." Kansas City Star

"For many, it is a book like no other, to be read and reread, discussed and treasured." Los Angeles Times

"A remarkable book" Newsweek

"One of the great fairy-tale quests in modern literature" Time Magazine

"A sustained feat of imagination that has entranced millions" The Chicago Tribune

"Tolkien's stories take place against a background of measureless depth…That background is ever-present in the creator's mind and it gives Frodo and company a three-dimensional reality that is seldom found in this kind of writing." The Washington Post