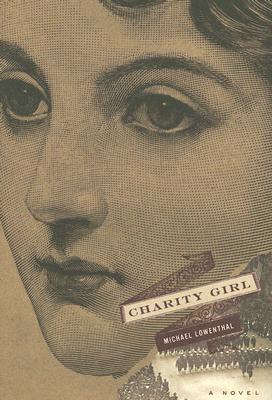 Charity Girl
Hardcover

* Individual store prices may vary.
Other Editions of This Title:
Paperback (1/8/2008)
Description
Charity Girl examines a dark period in our history, when fear and patriotic fervor led to devastating consequences. During World War I, the U.S. government waged a moral and medical campaign, incarcerating and quarantining fifteen thousand young women who were found to have venereal disease.
Frieda Mintz is a seventeen-year-old Jewish bundle wrapper at Jordan Marsh in Boston; she struck out on her own in the wake of her mother's determination to marry her off to a wealthy man twice her age. Then she spends one impuslive night with "a mensch, a U.S. Army private, ready to brave the trenches Over There." Unfortunately, Felix Morse leaves Frieda not just with vivid memories but with an unspeakable disease. Soon after, she is tracked down and sent to a makeshift detention center, where she suffers invasive physical exams, the discipline of an overbearing matron, and a painful erosion of self-worth. She's buoyed, though, by the strong women around her -- her fellow patients and a sympathetic social worker -- who, in depending on one another, seek to forge a new independence.
In smart, unusually determined Frieda Mintz, Michale Lowenthal has deftly created a most winning heroine through which to tell this troubling tale. Charity Girl lays bare an ugly part of our past when the government exercised a questionable level of authority at the expense of some of its most vulnerable citizens; it also casts long shadows, exploring timely questions of desire, identity, and the balance between the public good and individual freedom.
Praise For Charity Girl…
"Highly accomplished, Charity Girl is a gift to all readers of quality historical and literary fiction." --Matthew Pearl, The Dante Club and The Poe Shadow

"A deeply affecting and important novel. . . . Michael Lowenthal at a stroke establishes himself as a significant voice in American fiction." --Jay Parini

"Lowenthal…has accomplished the difficult feat of marrying the facts of history with the details that make a fictional life come alive. That few readers of Lowenthal's deserving novel will ever have heard of the detention of 'charity girls' is astonishing. That Lowenthal has made us aware of them is nothing short of a gift." The Washington Post

"Charity Girl" tells a deeply disturbing story with compassion and sly cleverness.
Boston Globe

Lowenthal deftly personalizes a tragic story... Rich in period detail, swift-paced prose and deserved political outrage.
Kirkus Reviews, Starred

Lowenthal's narrative style is perfect for a heroine who suffers but remains a survivor, striking just the right mix of dark and light, worldly and innocent.
The New York Times Book Review
Houghton Mifflin Harcourt, 9780618546299, 336pp.
Publication Date: January 1, 2007
or
Not Currently Available for Direct Purchase