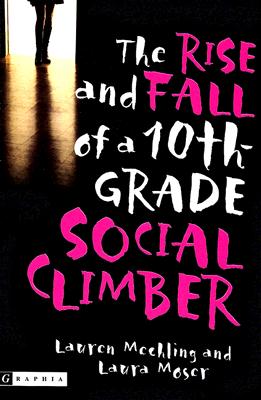 The Rise and Fall of a 10th Grade Social Climber (Paperback)
HMH Books for Young Readers, 9780618555192, 304pp.
Publication Date: May 30, 2005
* Individual store prices may vary.
Description
After the collapse of her parents' marriage, Mimi Schulman leaves her mother in Houston to look after her befuddled photographer father in New York. Too preoccupied with family problems to think much about her new life, Mimi's first hour at The Baldwin School—an institution where teachers offer psychoanalysis in lieu of grades and students hold cocktail parties in the bathroom between classes—leaves her spinning.
When Sam, her childhood best friend, bets her she can't befriend the "cool girls," Mimi accepts the challenge, only to discover that social climbing in New York is no easy task. Fitting in with the blond, all-American popular girls back in Texas was nothing compared to joining Baldwin's clique of raccoon-eyed waifs.
Rubbing shoulders with the offspring of diplomats and celebrities, all with secrets and dysfunctions that put her own domestic worries to shame, Mimi finds herself in one bizarre situation to the next—a fake-ID deli, a topless bar, a jacuzzi in Trump Tower—and in the position of winning a bet that threatens to make her lose sight of herself.
A coming-of-age story about friendship and betrayal, about brutal honesty and its consequences, The Rise and Fall of a 10th-Grade Social Climber is a novel with heart and a wicked sense of humor.
About the Author
Lauren Mechling grew up in Brooklyn, New York. She writes a weekly column for the New York Sun and has written for several other publications, including the Wall Street Journal and Seventeen Magazine.


Laura Moser grew up in Houston, Texas. She is the author of a biography of Bette Davis and reviews books for various publications.
Praise For The Rise and Fall of a 10th Grade Social Climber…
"The theme of finding acceptance and fitting in is catchy and contemporary." School Library Journal
"The authors present a no-holds-barred look at the realities of being an adolescent in today's society: parental breakups, peer pressure, drugs, alcohol and sex. And though not every teenager will be confronted with these issues, it is clear from this glimpse into the adolescent world that the challenges of being a teenager today are more complex than most of us realize." Bookpage
"It's the details, though, that make this an irresistible read: clothing, parties, music, trends are all captured to perfection, although these specifics will date quickly. Get this on your shelves now, while it's sure to please." Booklist, ALA
"Reads like a high school version of The Nanny Diaries. The authors seem to know this territory well . . . which should discomfit any parents who get their hands on it." —New York Post New York Post