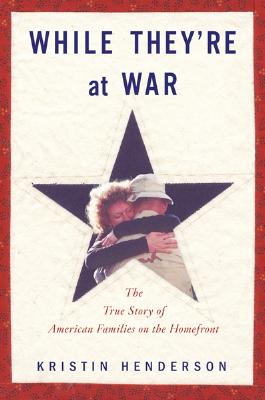 While They're at War
The True Story of American Families on the Homefront
Hardcover

* Individual store prices may vary.
Other Editions of This Title:
Paperback (11/3/2006)
Description
Kristin Henderson is a journalist married to a military chaplain who has served in the Persian Gulf, Afghanistan, and Iraq. In While They're at War, she draws upon the trust she's earned from military families and her unique access to military staff to give us a "powerful, revealing, and sometimes painful . . . look behind the scenes" (Booklist) at the modern military's untold story.

We first meet Marissa Bootes and Beth Pratt, new Army wives undergoing intense indoctrination on Fort Bragg, North Carolina, while their husbands are fighting in Iraq. Their stories unfold to reveal often hidden aspects of life on the homefront. Through gripping storytelling, we see families battling the overwhelming effects of isolation and anticipatory grief, the strongly enforced codes concerning infidelity, their feelings of alienation both from military staff and from nonmilitary citizens, and the harrowing impact of e-mail/cellphone/CNN culture. Moving scenes bring to life the special struggles of children and those who teach and care for them, as well as the toll that combat exposure takes on families, especially if it erupts into homecoming violence. Finally, Henderson reveals the life-changing solidarity experienced in an informal support group like Fort Bragg's Hooah Wives.

While They're at War is an indelible portrait, too, of virtually invisible figures such as homefront fathers raising teenagers alone. We meet the chaplains, social workers, and psychiatrists dedicated to helping military families cope. And, through Henderson's brilliant reporting from Walter Reed Army Medical Center's Ward 57, we are given a searing view of the wounded and their families confronting changed lives.

"In a country of nearly three hundred million people," Henderson writes, "only two and half million serve in the active duty armed forces. . . Yet in our American democracy, the warriors themselves don't get to decide when [sacrifices] are to be made. Civilians make that decision. It's up to our civilian Congress to declare war. . . and it's up to the civilians who elect those leaders to pay attention, to make sure that the cause of the hour is worth the sacrifices being made on their behalf." While They're at War is moving and necessary testimony for all Americans, from the military families who make possible America's way of war and way of life.

Kristin Henderson has written frequently on military issues; this book had its origins in two cover stories for the Washington Post Magazine. She is also the author of Driving by Moonlight, an account of her experience during her husband's deployment to Afghanistan. A practicing Quaker, she is married to a Navy chaplain serving with the Marines and is active in the Marine Corps's Key Volunteer family readiness program.
Praise For While They're at War: The True Story of American Families on the Homefront…
"This powerful, revealing, and sometimes painful book offers a look behind the scenes of military families most often seen during tearful good-byes, joyful homecomings, and 'the occasional yellow-ribbon moment." Booklist, ALA

"A standout in this season's deluge of war books, bringing a vital, often overlooked perspective on America's ongoing debates about Iraq." Kirkus Reviews

"engrossing and often heartbreaking...Henderson is a compassionate expert witness....Though many of the soldiers Henderson writes about are serving in Iraq, she takes neither side in the war debate, and keeps to a style that is both intimate and professional. This is an emotional book that effectively plies the complexities of military life." Publishers Weekly, Starred

Henderson's eye-opening work skillfully carries the reader through her vast subject, bringing up appropriate, well-sourced details at the right time. 'While They're at War' provides a wide-ranging portrait of this war's effects on the day-to-day lives of military wives and a few husbands (honorary members of their sisterhood) in and around Fort Bragg, N.C.
The Washington Post

"An intimate, sympathetic and detailed look at a life that is largely unknown to most Americans since the country ended the draft three decades ago….for civilians who outside the base gates, Henderson has done a service....As a military wife, Henderson's is the voice of experience." Los Angeles Times

"Writer Kristin Henderson brings a most unusual perspective to this urgent story....'While They're at War' is a very human look at two women at Fort Bragg, NC, as they confront the challenges of their husbands' first overseas deployments." Seattle Post-Intelligencer

"The book is an unpretentious, down-to-earth look at what spouses and family members of deployed soldiers endure on both the material and mental landscapes. It's the story of how military spouses adapt to deployment or fail to and why...There's so much helpful information scattered throughout that the book could serve as a handbook for military spouses" --Richmond Times Dispatch

"Kristin Henderson...gives us the truth from the home front in While They're at War, a revealing and nonparisan look at the military families behind the headlines. Fair warning: Even the joyful reunions can make you cry." --Parade
Houghton Mifflin Harcourt, 9780618558759, 336pp.
Publication Date: February 1, 2006
or
Not Currently Available for Direct Purchase