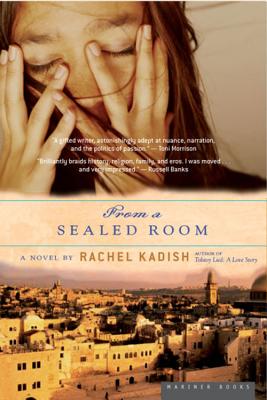 From A Sealed Room
Paperback

* Individual store prices may vary.
Other Editions of This Title:
Digital Audiobook (10/12/2020)
Description
In this affecting, perceptive novel, Rachel Kadish reflects on the ghosts of the past, the tensions of war, and the difficult bonds of family. When Maya enrolls at Hebrew University in Jerusalem shortly after the Gulf War, she hopes to leave New York and a fraught relationship with her mother behind her. In Israel, she gets to know her older cousin Tami, a housewife whose home has a room sealed against the war's Scud missile attacks. Like Maya, Tami feels distanced from the people closest to her -- her mother, her husband, her only son. But it will ultimately be Maya's visits with Shifra, an elderly recluse and Holocaust survivor who lives in the apartment below her, that give Maya the courage to confront her problems and break free of the burdens of her past.
Praise For From A Sealed Room…
"A gifted writer, astonishingly adept at nuance, narration, and the politics of passion." --Toni Morrison

"Brilliantly braids history, religion, family, and eros. I was moved . . . and very impressed. --Russell Banks

"I am taken by the poignancy of its voice -- by its evocative imagery, too. I hope it reaches many homes and many hearts." --Elie Wiesel, author of Night

"A brilliant, funny, inspired, and courageous first novel from a gifted and psychologically wise young writer. . . . Kadish's characters have entered my life." --Carol Gilligan, author of The Birth of Pleasure

"From a Sealed Room is hauntingly beautiful -- a profound exploration of suffering, endurance, and the effort to heal. Here is an extraordinary new writer." --Brian Morton, author of A Window Across the River

"Every first novel should be like this one: deeply imagined, deeply felt, and -- as a result -- deeply involving." --Gish Jen, author of The Love Wife

"From a Sealed Room is politically astute, emotionally honest, and displays all the technical mastery of a mature writer." --Caryl Phillips, author of Dancing in the Dark

"From a Sealed Room is a passionate, seductive song that will echo in the reader's memory for years to come." --Susan Power, author of The Grass Dancer

"A tale of war and peace that moves us from Jerusalem to New York and back again . . . filled with vigorous and distinct voices and a generous, alert narrative intelligence." The San Francisco Chronicle

"What makes this book so rich and historically resonant is the skill and boldness with which Kadish weaves the intersecting stories of three women representing three generations." The Chicago Tribune

"A poignant and surprisingly powerful tale." Boston Globe

"An intense, ambitious story that explores the chasms between truth and falsehood, past and present." The New York Times Book Review —
Mariner Books, 9780618562411, 356pp.
Publication Date: September 1, 2006
About the Author
RACHEL KADISH is the award-winning and USA Today bestselling author of the novels From a Sealed Room and Tolstoy Lied: A Love Story, and of the novella I Was Here. Her work has appeared on NPR and in The New York Times, Ploughshares, and Tin House.