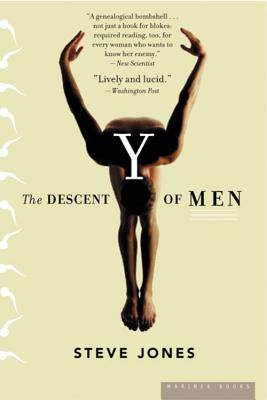 Y Descent of Men
The Descent of Men
Paperback

* Individual store prices may vary.
Other Editions of This Title:
Hardcover (5/1/2003)
Description
In his highly entertaining and enlightening book, the acclaimed geneticist and author Steve Jones offers a landmark exploration of maleness. With effervescent wit, Jones argues that men, biologically speaking, are the true second sex. Here he lays out the cases for and against masculinity -- exploring every biological aspect from the genesis of the Y chromosome onward -- based on the recent explosion of biological research. Along the way, he offers pithy commentary on topics such as male hormones, hair loss, and the hydraulics of man's most intimate organ. Fascinating and often surprising, Jones's evidence offers fresh fuel for the battle of the sexes.
Mariner Books, 9780618565610, 272pp.
Publication Date: May 4, 2005
About the Author
Steve Jones is professor of genetics and head of the prestigious Galton Laboratory, University College of London. Jones has previously written three trade books, with two published in the U.S.: DARWIN'S GHOST and THE LANGUAGE OF GENES. A geneticist whose specialty is snails (he did some of the most important early sex-differentiation work by studying their shells), Jones has regularly appeared as one of the top authors on THE TIMES's bestseller lists. His witty and often humorous writing compares with - and in some cases, surpasses - that of Richard Dawkins, Stephen Jay Gould, Edward O. Wilson, Jared Diamond, and Steven Pinker. His books have received outstanding reviews in the United States as well as Britain.