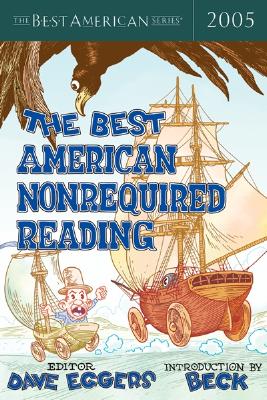 The Best American Nonrequired Reading 2005
Hardcover

* Individual store prices may vary.
Other Editions of This Title:
Paperback (10/8/2008)
Paperback (10/10/2003)
Paperback (10/11/2006)
Paperback (10/10/2007)
Paperback (10/2/2012)
Paperback (10/8/2009)
Paperback (10/8/2013)
Compact Disc (10/15/2002)
Hardcover (10/1/2006)
Paperback (10/1/2004)
Paperback (10/4/2011)
Hardcover (10/1/2007)
Hardcover (10/1/2008)
Hardcover (10/1/2004)
Description
The Best American Series First, Best, and Best-Selling

The Best American series has been the premier annual showcase for the country's finest short fiction and nonfiction since 1915. For each volume, the very best pieces are selected by a leading writer in the field, making the Best American series the most respected--and most popular--of its kind.

The Best American Nonrequired Reading 2005 includes

Daniel Alarcón • Aimee Bender • Dan Chaon • Daniel Clowes • Tish Durkin • Stephen Elliott • Al Franken • Jhumpa Lahiri • Rattawut Lapcharoensap • Anders Nilsen • Georges Saunders • William T. Vollmann • and others

And perhaps you even know that in the storefront of the San Francisco tutoring center, we sell supplies to buccaneers. Yes, you know this. We sell eyepatches, peg legs, lard, planks (by the foot), hand replacements, puffy shirts, and red and white striped socks. This is true. We run the Bay Area's only independent pirate-supply store, but this is not easy. As you know, we have competition. There is a chain pirate-supply store, and every week, it seems, they open a new franchise, encroaching ever more closely on our territory, such as it is. Can we survive the tidal wave that is known as Captain Rick's Booty Cove? We are not sure, but we intend to fight to the end.

Who is Captain Rick? you ask. That is what many people want to know. He claims to be a seafarer of some renown, who, after many decades on the ocean, decided to hang up his parrot and perpetual tan and open a few humble supply shops. Sounds like a nice story — if it were true. In the interest of informing you, the buying public, about Captain Rick, we're enclosing in these pages six of our ongoing informational posters about Captain Rick. Once a week or so, 826 Valencia publishes its newest findings about our competitor, and though this may not be the most appropriate venue, the truth must be heard. One thing not mentioned in these announcements is that Captain Rick's planks are made of balsa. Balsa is no good for planks.
(From the foreword by Dave Eggers)

Dave Eggers is the author of A Heartbreaking Work of Staggering Genius, You Shall Know Our Velocity!, and How We Are Hungry, and the editor of McSweeney's. He is the founder of 826 Valencia, a San Francisco writing lab for young people.

Beck, whose single "Loser" was instantly labeled an anthem for the slacker generation, is also known for his Grammy Award-winning albums Odelay and Mutations.

Tony Millionaire (cover art) is the creator of Maakies, one of the most popular alternative newspaper comic strips in the world, and of the award-winning comic book Sock Monkey.
Houghton Mifflin Harcourt, 9780618570478, 368pp.
Publication Date: October 1, 2005
or
Not Currently Available for Direct Purchase