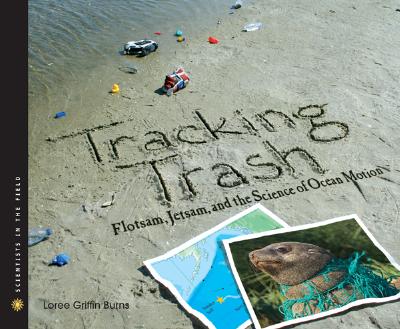 Tracking Trash (Hardcover)
Flotsam, Jetsam, and the Science of Ocean Motion
Houghton Mifflin Harcourt (HMH), 9780618581313, 56pp.
Publication Date: March 1, 2007
* Individual store prices may vary.
Description
Aided by an army of beachcombers, oceanographer Dr. Curtis Ebbesmeyer tracks trash in the name of science. From sneakers to hockey gloves, Curt monitors the watery fate of human-made cargo that has spilled into the ocean. The information he collects is much more than casual news; it is important scientific data. And with careful analysis, Curt, along with a community of scientists, friends, and beachcombers alike, is using his data to understand and protect our ocean.

In engaging text and unforgettable images, readers meet the woman who started it all (Curt's mother!), the computer program that makes sense of his data (nicknamed OSCURS), and several scientists, both on land and on the sea, who are using Curt's discoveries to preserve delicate marine habitats and protect the creatures who live in them.
About the Author
Loree Griffin Burns, Ph.D., did her doctoral work far from the Pacific Ocean, at the University of Massachusetts Medical School. While writing this book, however, she made several trips to the Pacific coast. Ms. Burns lives in Massachusetts with her husband and children.
Praise For Tracking Trash: Flotsam, Jetsam, and the Science of Ocean Motion…
Step by step, the reader of this engaging description of research involving familiar objects like tub toys and LEGO pieces comes to the profoundly depressing realization that the oceans of the world and the stomachs of marine animals are filled with indestructible bits of human trash, just in time for the section entitled, "What You Can Do." —Kirkus, starred review
The well-written narration will keep readers engaged, and it's excellent for reports. The science is clearly explained, and the vivid and lively photographs and well-labeled charts and diagrams help to create interest and build understanding. This title will get readers thinking and possibly acting on these problems.—School Library Journal, s—tarred review

Scientific information builds from chapter to chapter, creating a natural detective story.—Horn Book

The writing is light, but the facts are weighty, and the message of reduce, reuse, and recycle comes across loud and clear. This book i—s fascinating on its own, but it also can hold its place in a middle-level science curriculum. The complex science behind the movement of the ocean is explained clearly with excellent supporting graphics.—VOYA (Voice of Youth Advocates)

Spacious layout, exceptionally fine color photos, and handsome maps give this book an inviting look. . . . A unique and often fascinating book on ocean currents, drifting trash, and the scientists who study them.—Booklist, ALA

"Even kids not remotely interested in science might find this work captivating." —Newsday, 9/30/07 Newsday

"There's plenty of good reading . . . "—Columbus Dispatch

"[L]oaded...with information, insight, and intellectual twists." —Natural History Magazine 12/07-1/08
or
Not Currently Available for Direct Purchase