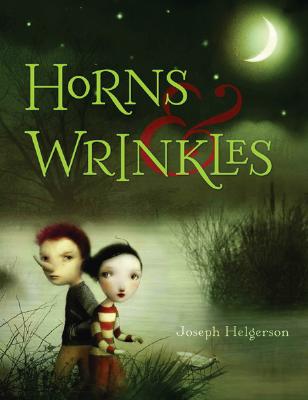 Horns and Wrinkles
Hardcover

* Individual store prices may vary.
Other Editions of This Title:
Paperback (2/18/2008)
Description
How can you tell if a river's under a spell? River trolls, rock trolls, blue-wing fairies—the usual suspects—the stretch of the Mississippi where Claire lives has rumors of them all, not that she's ever spotted any. But then Claire's cousin Duke takes a swim and sprouts a horn—a long, pointy, handsome thing. After that, Claire doesn't have much choice but to believe that something rivery is going on, especially since she's the only one who can help Duke lose his new addition.

In the tradition of grand river adventures, Joseph Helgerson's tale is as twisty and unpredictable as the Mississippi River itself, while an unusual cast of characters adds pepper to the pot. Readers of all ages will enjoy getting in—and out of—trouble with Claire and Duke in this nimble, sharp, and funny fantasy.

Praise For Horns and Wrinkles…
Bullies beware! In the town of Blue Wing, Minn., on the banks fo the Mississippi River, 12-year-old Claire watches with fascination as her mean cousin Duke grows a rhinoceros horn after throwing Claire and her pet turtle off a bridge. Debut novelist Helgerson, through the heroine's first-person narration, does a remarkable job of making the magical goings-on seem completely plausible. The old woman who resuces Claire from the river, for instance, explains that only bullies who fall into that particular section of the river will grow a horn (Duke winds up getting tossed into the water himserlf); each month, rock trolls put a potion in the river to cause the physical change, then collect the bullies. The only way to reverse the spell is to perform a genuine act of kindness--and promptly, or the afflicted will transform into a wrinkly rhinoceros. It turns out that these horns have plagued Claire's family for generations; even the medical community is aware of these "rivery" effects. As with most memorable enchanted tales, it's up to the children to reverse the curse, and Claire asks in exchange for a good deed of her own. This likable heroine, full of spunk and tenacity, unspools her lively account at a quick pace, and quirky characters such as Bodacious Deepthink, the Great Rock Troll, add plenty of pizzazz. Nicoletti's half-tone chapter openers combine meticulous detail with fuzzy shading, crontributing to this charming book's paradoxical success as a thoroughly believable fantasy in which magic and the real world co-exist.
Publishers Weekly, Starred

It's been a long stretch since I've encountered such genuine and affectionate storytelling, such creative imagining and unforgettable characters. Helgerson puts his stamp on the long tradition of Mississippi River writing, creating a new tall tale with all the hallmarks of a classic.
The San Diego Union-Tribune
HMH Books for Young Readers, 9780618616794, 368pp.
Publication Date: September 11, 2006
About the Author
Joseph Helgerson lives in Minneapolis with his wife, daughter, and son.
Nicoletta lives and works in San Marino, Italy. Awarded with the Andersen prize, "baia delle favole" as best Italian illustrator of the year in 2001, Nicoletta has also received the silver medal from the Society of Illustrators of New York.
or
Not Currently Available for Direct Purchase