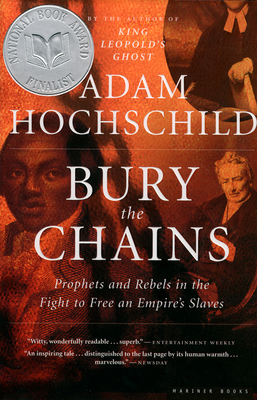 Bury the Chains (Paperback)
Prophets and Rebels in the Fight to Free an Empire's Slaves
Mariner Books, 9780618619078, 496pp.
Publication Date: February 10, 2006
* Individual store prices may vary.
Description
From the author of the widely acclaimed King Leopold's Ghost comes the taut, gripping account of one of the most brilliantly organized social justice campaigns in history -- the fight to free the slaves of the British Empire. In early 1787, twelve men -- a printer, a lawyer, a clergyman, and others united by their hatred of slavery -- came together in a London printing shop and began the world's first grass-roots movement, battling for the rights of people on another continent. Masterfully stoking public opinion, the movement's leaders pioneered a variety of techniques that have been adopted by citizens' movements ever since, from consumer boycotts to wall posters and lapel buttons to celebrity endorsements. A deft chronicle of this groundbreaking antislavery crusade and its powerful enemies, Bury the Chains gives a little-celebrated human rights watershed its due at last.


About the Author
ADAM HOCHSCHILD is the author of seven books. King Leopold's Ghost was a finalist for the National Book Critics Circle Award, as was his recent To End All Wars. His Bury the Chains was a finalist for the National Book Award and won the Los Angeles Times Book Prize and PEN USA Literary Award. He lives in Berkeley, California.