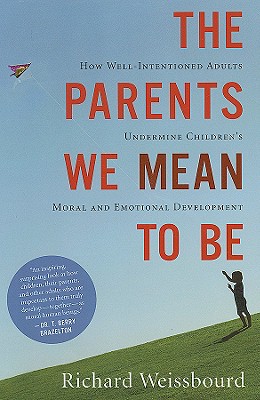 The Parents We Mean To Be
How Well-Intentioned Adults Undermine Children's Moral and Emotional Development
Hardcover

* Individual store prices may vary.
Other Editions of This Title:
Paperback (9/3/2010)
Description
Harvard psychologist RichardWeissbourd argues incisively that parents—not peers, not television—are the primary shapers of their children's moral lives. And yet, it is parents' lack of self-awareness and confused priorities that are dangerously undermining children's development.
Through the author's own original field research, including hundreds of rich, revealing conversations with children, parents, teachers, and coaches, a surprising picture emerges.
Parents' intense focus on their children's happiness is turning many children into self-involved, fragile conformists.The suddenly widespread desire of parents to be closer to their children—a heartening trend in many ways—often undercuts kids'morality.Our fixation with being great parents—and our need for our children to reflect that greatness—can actually make them feel ashamed for failing to measure up. Finally, parents' interactions with coaches and teachers—and coaches' and teachers' interactions with children—are critical arenas for nurturing, or eroding, children's moral lives.
Weissbourd's ultimately compassionate message—based on compelling new research—is that the intense, crisis-filled, and profoundly joyous process of raising a child can be a powerful force for our own moral development.
Houghton Mifflin Harcourt, 9780618626175, 256pp.
Publication Date: March 13, 2009
About the Author
RICHARD WEISSBOURD is a child and family psychologist on the faculty of Harvard's School of Education and Kennedy School of Government. His writing has appeared in the New York Times, Boston Globe, and Chicago Tribune. Weissbourd is the author of The Vulnerable Child, named by the American School Board Journal as one of the top ten educational books of all time.
or
Not Currently Available for Direct Purchase