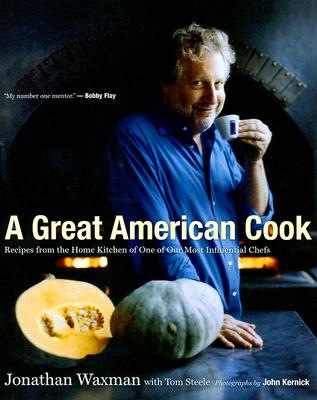 A Great American Cook: Recipes from the Home Kitchen of One of Our Most Influential Chefs (Hardcover)
Recipes from the Home Kitchen of One of Our Most Influential Chefs
Houghton Mifflin, 9780618658527, 286pp.
Publication Date: September 12, 2007
* Individual store prices may vary.
or
Not Currently Available for Direct Purchase
Description
Renowned chef Jonathan Waxman knows that becoming a great American cook starts at home--here he shares methods for recipes you can pull together with just a few ingredients.
Widely recognized as one of the fathers of New American cuisine, Jonathan Waxman knows how to make magnificent food from just a few ingredients, roasting eggplants and red peppers for an intensely flavored soup or tossing asparagus with oranges and hazelnuts for a refreshing first course. His vision is bold, but strikingly unpretentious: many of the dishes in A Great American Cook--like the Shrimp BLT, Crispy Chicken and Goat Cheese Burritos, and Gingerbread with Brandied Plums--are free-spirited plays on classics, and his "less is more" philosophy animates suppers like flash-seared scallops on caramelized onions and chicken cooked under a brick with a sauce of rose wine, bacon, and peas. From a versatile vegetable dish that goes with nearly every main course to handmade pastas with delicate sauces to a foolproof way to cook salmon, Waxman gives you all the techniques and recipes you need for simple, sophisticated cooking at home.
Advertisement