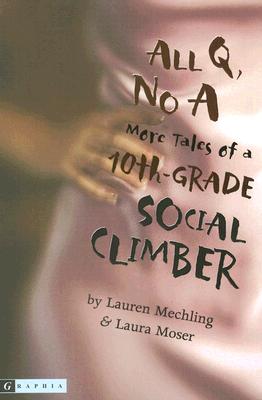 All Q, No A (Paperback)
More Tales of a 10th-Grade Social Climber
HMH Books for Young Readers, 9780618663781, 288pp.
Publication Date: June 12, 2006
* Individual store prices may vary.
Description
After a tumultuous first semester, Mimi Schulman thinks she's ready to give social climbing a rest and settle into the groove of New York's wacky Baldwin School. She's eager to start over with her friends, reconnect with her dad, and make headway with Max Roth—the hottest guy in tenth grade.

But when an assignment for the school paper turns scandalous and spirals out of control, Mimi finds little time to enjoy her new and improved existence. Instead, she embarks on a roller coaster ride through the underbelly of the New York art world, from the VIP lounge of a shady nightclub to a private Caribbean island populated with washed-up TV stars and fifteen-second celebrities. As answers keep slipping through her fingers, Mimi begins to wonder if she'll ever manage to pin down the story and get on with her life. And if so, will her life still be there?

All Q, No A is a touching comedy that will appeal to anyone who knows what it's like have more questions than answers. Fans of Mimi Schulman beware! This book will keep you screaming with laughter long after you've turned the last page.
About the Author
Lauren Mechling grew up in Brooklyn, New York. She writes a weekly column for the New York Sun and has written for several other publications, including the Wall Street Journal and Seventeen Magazine.


Laura Moser grew up in Houston, Texas. She is the author of a biography of Bette Davis and reviews books for various publications.
Praise For All Q, No A: More Tales of a 10th-Grade Social Climber…
Fans of the first book will surely enjoy the follow-up volume and appreciate the new Mimi. No longer obsessed with social status or rising through the upper echelons of her new school, Mimi grows as a character and feels much more genuine and appealing. All Q, No A has...depth...with a compelling plot that makes the reader, along with Mimi, question what will happen next.
KLIATT