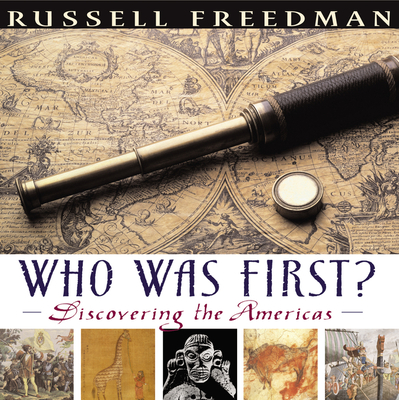 Who Was First?: Discovering the Americas (Hardcover)
Discovering the Americas
Clarion Books, 9780618663910, 88pp.
Publication Date: October 15, 2007
Description
Many generations of American schoolchildren were taught that Columbus discovered America, and a holiday reminds us every October. But historical investigation in recent years has shown us otherwise. There is evidence that adventurers, explorers, traders, and nomads from various parts of the globe set foot on American soil long before 1492. And expeditions that landed in the Americas reported people already living thereindicating that America had been discovered" before.
Russell Freedman brings his legendary skills as researcher and storyteller to this fresh and intriguing look at the American past. Colorful legends and first-person accounts are woven into the riveting narrative, which also illuminates the way historians and mapmakers have gathered, evaluated, and recorded information throughout the ages.
About the Author
Russell Freedman received the Newbery Medal for LINCOLN: A PHOTOBIOGRAPHY. He is also the recipient of three Newbery Honors, the Sibert Medal, and the Laura Ingalls Wilder Award, and was selected to give the 2006 May Hill Arbuthnot Honor Lecture. Mr. Freedman lives in New York City.
Praise For Who Was First?: Discovering the Americas…
"Clear and packed with interesting details ... [t]his engaging work presents history as a story still being written." Kirkus Reviews, Starred

Students will discover fascinating information as well as a fine example of the research process in this thought-provoking work.
School Library Journal, Starred

"A well-rtesearched, intelligent account of America's 'discovery.'" Booklist, ALA, Starred Review

:"This well-designed, clearly written book looks at various ideas about the discovery of the Americas, including the famous voyages of Columbus in 1492, the claims that fifteenth-century Chinese explorer Zheng He may have salied to the Americas, and the now-documented settlement of Vikings in Newfoundland around the year 1000." Book Links, ALA

"Freedman has done it again, providing a well-organized, lucid, and engaging explanation of an important subject for middle-grade and middle school readers." Horn Book, Starred

Freedman provides an intriguing, fresh, and compelling view of traditional American history, taking readers beyond the familiar story of Columbus as the 'discoverer of America' and presenting new theories and possiblitites about who might have come to the Americas first and why.
VOYA (Voice of Youth Advocates)

A variety of illustrations from maps and models to dioramas and paintings embellish the text; a bibliography, index, and specific sources for quotations are also included.
Bulletin of the Center for Children's Books
Advertisement