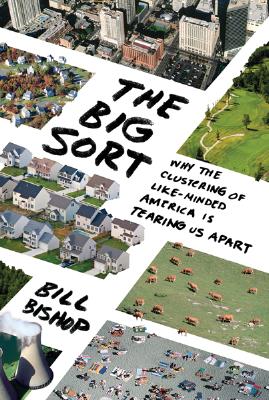 The Big Sort (Hardcover)
Why the Clustering of Like-Minded America Is Tearing Us Apart
Houghton Mifflin Harcourt, 9780618689354, 384pp.
Publication Date: May 7, 2008
Other Editions of This Title:
Paperback (5/11/2009)
* Individual store prices may vary.
Description
The untold story of why America is so culturally and politically divided

America may be more diverse than ever coast to coast, but the places where we live are becoming increasingly crowded with people who live, think, and vote as we do. This social transformation didn't happed by accident. We've built a country where we can all choose the neighborhood -- and religion and news show -- most compatible with our lifestyle and beliefs. And we are living with the consequences of this way-of-life segregation. Our country has become so polarized, so ideologically inbred, that people don't know and can't understand those who live just a few miles away. The reason for this situation, and the dire implications for our country, is the subject of this groundbreaking work.

In 2004, the journalist Bill Bishop, armed with original and startling demographic data, made national news in a series of articles showing how Americans have been sorting themselves over the past three decades into alarmingly homogeneous communities -- not by region or by red state or blue state, but by city and even neighborhood. In The Big Sort, Bishop deepens his analysis in a brilliantly reported book that makes its case from the ground up, starting with stories about how we live today and then drawing on history, economics, and our changing political landscape to create one of the most compelling big-picture accounts of America in recent memory.

The Big Sort will draw comparisons to Robert Putnam's Bowling Alone and Richard Florida's The Rise of the Creative Class and will redefine the way Americans think about themselves for decades to come.
About the Author
BILL BISHOP was a reporter for the Austin American-Statesman when he began research on city growth and political polarization with the sociologist and statistician Robert Cushing. Bishop has worked as a columnist for the Lexington Herald-Leader, and, with his wife, owned and operated the Bastrop County Times, a weekly newspaper in Smithville, Texas. He lives in Austin.
Praise For The Big Sort: Why the Clustering of Like-Minded America Is Tearing Us Apart…
"Essential reading for activists, poli-sci types, journalists and trend-watchers." Kirkus Reviews

"A timely, highly readable discussion of American neighborhoods and the implications of who lives in them." Library Journal

"A book posing hard questions across the political spectrum." Booklist, ALA, Boxed Review

"Bishop's argument is meticulously researched—surveys and polls proliferate—and his reach is broad." Publishers Weekly

"a gripping new book" - The Economist

"Jam-packed with fascinating data, "The Big Sort" presents a provocative portrait of the splintering of America." Boston Globe

"[a] rich and challenging book about the ways in which the citizens of this country have, in the past generation, rearranged themselves into discrete enclaves that have little to say to one another and little incentive to bother trying." The Wall Street Journal
or
Not Currently Available for Direct Purchase