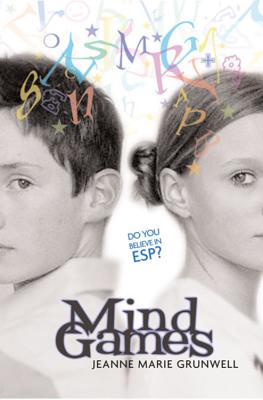 Mind Games (Paperback)
HMH Books for Young Readers, 9780618689477, 144pp.
Publication Date: May 22, 2006
* Individual store prices may vary.
Description
Thus reads an article in the Waverly Times, which is Exhibit A in this fresh and inventive story about ESP, friendship, sisterhood, and the ties that bind. Told by the characters themselves, Mind Games crackles with personality and reveals how each student tries to prove that ESP exists and what he or she discovers along the way. Funny and engaging, the individual voices are right on target, revealing the complex relationships and characters of the members of the Mad Science Club. Here they grapple with life, death, love, and the lottery—all before they reach the eighth grade!
About the Author
Jeanne Marie Grunwell has fond memories of her eighth-grade science fair project on ESP. She lives with her husband, daughter, and two black cats.
Praise For Mind Games…
"An inventive format and a cast of memorable characters distinguish Grunwell's debut novel…The story flies by, leaving the reader eager for more." Publishers Weekly, Starred
"The book…is a fast-paced and fascinating read. It's safe to predict tat it'll be a winner." School Library Journal
"Newcomer Grunwell has created a short character-based plot using a variety of formats similar to the cleverly created scenarios by Kate Klise." Kirkus Reviews
"A fine debut from Grunwell, this novel about newly opened minds may very well prove mind-opening." Horn Book Guide