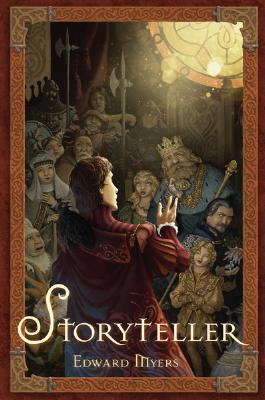 Storyteller (Hardcover)
Clarion Books, 9780618695416, 283pp.
Publication Date: July 21, 2008
* Individual store prices may vary.
or
Not Currently Available for Direct Purchase
Description
"Once upon a time," begins the narrator of this richly imagined novel. But what follows is no ordinary fantasy full of dragons, elves, and wicked stepmothers. Yes, the tale involves a boy named Jack. But he's not the one who climbed a beanstalk or slew seven giants with one blow. This Jack is a storyteller, a seventeen-year-old farm boy who sets off to seek his fortune in the royal city of Sundar. Jack has many adventures and narrow escapes on his journey. He also meets an assortment of memorable characters--including a talking bird, a one-eyed robber, a mysterious illusionist, and a melancholy princess. Each has a tale to tell, and these accounts, along with Jack's own stories and the framing narrative, are woven into a complex, dazzling tapestry that will capture the reader's imagination. Through them, Edward Myers explores the power--for good and for evil--of the stories we all tell.
About the Author
Edward Myers is the author of 20 books for adults and 12 for children, including two middle-grade adventure novels, Climb or Die and Hostage (Hyperion). This is his first book for Clarion. He lives with his wife and two children near New York City.
Praise For Storyteller…
"Jack, 17, is a storyteller who leaves his village to seek his fortune in the Royal City. He is appointed Royal Storyteller, charged with lifting the spirits of King Alphonse, who is grieving his wife's death. Jack makes an enemy of the young and bratty Prince Yoss, but falls in love with beautiful but melancholy Princess Stelinda, who tends to talk in rhyming couplets. When the cruel prince takes the throne, Jack is forced to travel the kingdom, spinning stories that make the new king look good. He faces several trials, including imprisonment and near beheading. The book's messages are clear: stories are powerful for good or evil, and we must each live our own to the fullest. There are stories within stories here, and a framing narrative. Characters are colorful and memorable: Loquasto, the talking midnight mynah who is Jack's companion and who loves a talking fish; the illusionist Zephyrio; the Robin Hood-like Garth Golden-Eye; and Celestina, the Woman of the Woods and rightful heir to the throne. At the conclusion, readers will be pleased to find that Jack is the grandfather in the framing narrative, having lived as happily ever after as he had hoped and now bidding his grandson, the listener of this tale, to be off, as the world awaits him. No dragons, elves, or evil stepmothers here, but this narrative will be enjoyed by those who like traditional fairy tales in which good triumphs over evil and the simple boy scores the beautiful princess."--School Library Journal

"A youngster tired of ordinary stories demands that his grandfather tell him something different.
So begins the tale of Jack the Storyteller. Elements from familiar folktales are interwoven with new twists and modern sensibilities in this many-layered story within a story that contains still more stories. Its framework is the picaresque tale of Jack, who sets out to seek his fortune and finds love, adventure, political intrigue, adversity and sorrow. The cast of magnificently varied and multidimensional characters includes a viciously greedy king, an evil illusionist, a princess who feels trapped by her royal position and a brilliant, talking bird who is hopelessly in love with a fish. The stories Jack tells along the way are not mere diversions, but act as clever devices that provide insight into the nature of power, love, good and evil. As Myers engages the reader in the tale, he also deftly and subtly explores and illuminates the writer's craft and the very basis of story and the power of storytelling. Marvelous."--Kirkus Reviews


Advertisement