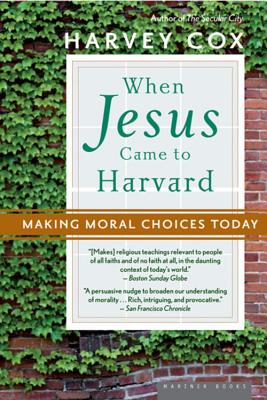 When Jesus Came to Harvard (Paperback)
Making Moral Choices Today
Mariner Books, 9780618710546, 352pp.
Publication Date: August 16, 2006
* Individual store prices may vary.
Description
In this urgently relevant, wholly enlightening discussion of modern moral decisions, the Harvard theology professor Harvey Cox considers the significance of Jesus and his teachings today. As he did in his undergraduate class Jesus and the Moral Life—a course that grew so popular that the lectures were held in a theater often used for rock concerts—Cox examines contemporary dilemmas in the light of lessons gleaned from the Gospels. Invigorating and incisive, this book encourages an intellectual approach to faith and inspires a clear way of thinking about moral choices for all of us.
About the Author
HARVEY COX is the author of the groundbreaking The Secular City and many other books, including The Seduction of the Spirit, which was nominated for the National Book Award. A professor of theology at Harvard Divinity School, he lives in Cambridge, Massachusetts.
Praise For When Jesus Came to Harvard: Making Moral Choices Today…
"[Makes] religious teachings relevant to people of all faiths and of no faith at all, in the daunting context of today's world." --Boston Sunday Globe

"A persuasive nudge to broaden our understanding of morality . . . Rich, intriguing, and provocative." The San Francisco Chronicle

[Cox] weighs in on the contemporary Jesus boom with his usual sagacity and wit, finding America's latest and greatest obsession alive and well among Christians and Buddhists, believers and un-believers, and even in the secular citadel of Harvard." --Stephen Prothero, author of American Jesus

"Stimulating." --Boston Sunday Globe

"Elegantly organized . . . Cox pulls off a near miracle as he gathers disparate scholarly and religious views of Jesus, while demonstrating respectful, deep knowledge of Jewish, Muslim, and Buddhist traditions, and various Christian teachings." The Seattle Times

"Want to know what Jesus would do? Harvey Cox's book When Jesus Came to Harvard might help." The Chicago Tribune

"An acute observer of faith and culture . . . He covers a dazzling array of subjects . . . Cox's exuberant probing of the Gospels is wise and humane." The San Francisco Chronicle

"Cox is intelligent and provocative, but also kind and reverent . . . [presenting] a postmodern Christian's vision of Jesus which just might inspire readers thirsting in the secular city." Raleigh News & Observer

"Provacative . . . erudite yet accessible." Hartford Courant

"Weaving together movie themes, politics, poetry, and Eastern philosophy, Cox makes a powerful argument." Library Journal

"Compelling . . . much-needed insight into a world where life is still difficult and Jesus still counts." --Peter J. Gomes

"Full of existential wisdom, sparkling and unexpected religious insights, and life-affirming humor and hope . . . Christian, Jewish, and indeed every kind of reader will be enlightened and fascinated." --Rabbi Irving Greenberg

"A chance to sneak into the back row and catch a few snippets of a master at work." Christian Science Monitor

"Thought-provoking and soul-stirring . . . one of the best books of the year." Spirituality & Health Magazine