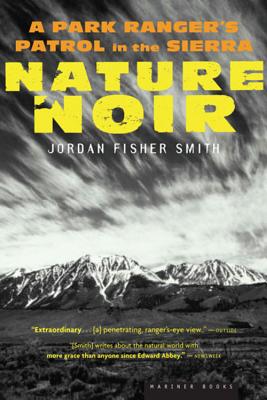 Nature Noir (Paperback)
A Park Ranger's Patrol in the Sierra
Mariner Books, 9780618711956, 216pp.
Publication Date: May 1, 2006
Description
A nature book unlike any other, Jordan Fisher Smith's startling account of fourteen years as a park ranger thoroughly dispels our idealized visions of life in the great outdoors. Instead of scout troops and placid birdwatchers, Smith's beat -- a stretch of land that has been officially condemned to be flooded -- brings him into contact with drug users tweaked out to the point of violence, obsessed miners, and other dangerous creatures. In unflinchingly honest prose, he reveals the unexpectedly dark underbelly of patrolling and protecting public lands.
Praise For Nature Noir: A Park Ranger's Patrol in the Sierra…
"Eloquently meditative . . . [Smith writes]with a gritty candor -- think of a gun-toting Norman Maclean or Wallace Stegner." -- Alan Burdick The New York Times Book Review

"Gloriously unlike anything I've ever read before . . . gives entree into a strange, dark, and mesmerizing outdoor world that's absolutely unforgettable." -- Caroline Leavitt Boston Globe

"He writes about the natural world with more grace than anyone since Edward Abbey." Newsweek

"Extraordinary . . . Nature Noir marks the debut of a terrific new nature writer, one whose penetrating, ranger's-eye view of the Sierra Nevada recalls the plain-spoken timbre of Edward Abbey and David James Duncan." Outside

"Gracefully weaves scenes and stories with context, history and reflection, in ways recalling the best of John McPhee." Los Angeles Times

"Our editors recommend . . . In his taut drama . . . Jordan Fisher Smith does much to dispel the notion of park users as docile birdwatchers in hiking shorts or rangers as kindly wildflower guides in khaki hats." The San Francisco Chronicle

"A wonderful antidote to the treacly Ansel Adams image of our parks." The Wall Street Journal

"Astonishing and fine . . . graceful, disturbing. . . [a] remarkable, hard-to-classify book." Cleveland Plain Dealer

"Smith offers a fresh perspective on our threatened environment . . . Nature Noir reflects the spirit of an era as did Desert Solitaire." Charlotte Observer

"A nature book unlike any other. . . infused with wonder, laced with heart-stopping descriptions of natural beauty and peppered with gritty, anti-romantic, all-too-real tales of cops 'n' bad guys in the great outdoors." The San Diego Union-Tribune

"By turns funny, poignant and surprising . . . an intimate memoir of the career of a state-park ranger. Not just any ranger, but one with a wicked pen, patrolling a doomed landscape." Seattle Times/Post-Intelligencer

"Nature Noir is by far the best book written by or about the modern park ranger I have read." -- Tom Wylie Bloomsbury Review

"Not only an electrifying tale of bringing the law to the wild west in the 1980s and '90s but also a graphic piece of writing from someone who has learned his craft from the royalty of American naturalists: writers like Gary Snyder, Aldo Leopold and Edward Abbey." Buffalo News
Advertisement