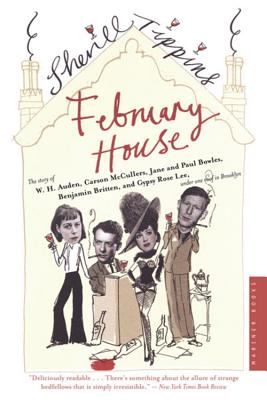 February House
Paperback

* Individual store prices may vary.
Other Editions of This Title:
Hardcover (2/1/2005)
Description
February House is the uncovered story of an extraordinary experiment in communal living, one involving young but already iconic writers -- and the country's best-known burlesque performer -- in a house at 7 Middagh Street in Brooklyn during 1940 and 1941. It was a fevered yearlong party fueled by the appetites of youth and by the shared sense of urgency to take action as artists in the months before America entered the war.

In spite of the sheer intensity of life at 7 Middagh, the house was for its residents a creative crucible. Carson McCullers's two masterpieces, The Member of the Wedding and The Ballad of the Sad Cafe, were born, bibulously, in Brooklyn. Gypsy Rose Lee, workmanlike by day, party girl by night, wrote her book The G-String Murders in her Middagh Street bedroom. Auden -- who along with Britten was being excoriated at home in England for absenting himself from the war -- presided over the house like a peevish auntie, collecting rent money and dispensing romantic advice. And yet all the while he was composing some of the most important work of his career.

Sherill Tippins's February House, enlivened by primary sources and an unforgettable story, masterfully recreates daily life at the most fertile and improbable live-in salon of the twentieth century.
Praise For February House…
"A deliciously readable...story of young artists trying to become themselves. '' The New York Times Book Review

"Irresistible...The house itself has long since been demolished, but Sherill Tippins has rebuilt it with intelligence and charm." The Washington Post

"A cozy, gossipy read, punctuated by solid. . .literary criticism." The New Yorker

"Tippins' research is prodigious and fun to go through, the personalities she depicts indelibly drawn." Los Angeles Times

"Tippins' poignant stories...make the residents of the February House come alive for literature lovers and intellectual voyeurs alike." Providence Journal

"Tippins deftly captures the energy and anxiety of this group of artists who shaped mid-century culture." --Robert Weibezahl Bookpage

"A lively literary history with some surprising depth . . . A brief, madcap moment in literary chronicles." Kirkus Reviews

"This is a book that made me wish I was 20 again or living in pre-war Brooklyn circa 1940." --Rocky Mountain News

"February House casts an important light on…how one group of artists handled the challenges of the era." -- Bay Area Reporter

"A tremendous amount of research lies behind February House...it truly is an engrossing tale." --The New York Observer

"The building is gone now, but Sherill Tippins makes marvelous work of the brief experiment in communal living." -- New York Daily News
Mariner Books, 9780618711970, 336pp.
Publication Date: July 12, 2006
About the Author
SHERILL TIPPINS is the author of February House: The Story of W. H. Auden, Carson McCullers, Jane and Paul Bowles, Benjamin Britten and Gypsy Rose Lee Under One Roof in Wartime America. She lives in New York City.