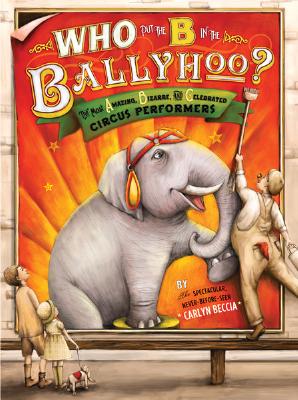 Who Put the B in the Ballyhoo?
Hardcover

* Individual store prices may vary.
Description
Before the days of TV, DVDs, and video games, there was the circus. When it came to town, businesses and schools would shut down. Folks would gather round, for there, right in front of their eyes, was drama, action, and intrigue. There was the grace ofthe bareback rider, the daring of the acrobat, the strangeness of the snake lady, and the delight of the dancing pigs.

Vintage-style circus posters capture the weird and the wonderful while fascinating sidebars reveal historical truths behind America's circuses. What was it like when the circus came to town? This book, illustrated in rich oils, gives us a ringside seat.

Praise For Who Put the B in the Ballyhoo?…
What better way to evoke the Big Top's historical enticements? . . . Step right up.
Booklist, ALA

Today's readers may be as entranced by Beccia's depictions of such spectacles as their forebearers were by the real thing.
Publishers Weekly —
Clarion Books, 9780618717187, 32pp.
Publication Date: April 9, 2007
About the Author
Carlyn Beccia's published works include Who Put the B in the Ballyhoo? and The Raucous Royals. The latter was inspired by her trip to Paris: "I went to Versailles," she writes, "and discovered that Marie Antoinette never said her infamous line 'Let them eat cake.' Then I remembered also believing that Anne Boleyn had six fingers. After much digging, I discovered that one of her biographers after her death said she had an extra nail. A nail isn't a finger. That discovery led to another rumor and then another." 
 
or
Not Currently Available for Direct Purchase