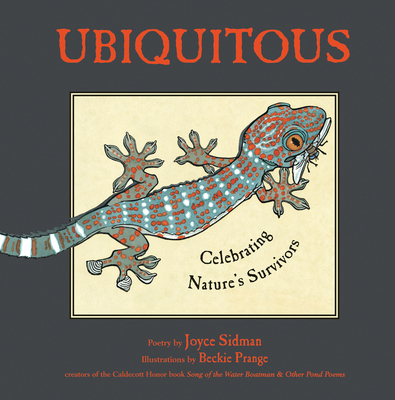 Ubiquitous
Celebrating Nature's Survivors
Hardcover

* Individual store prices may vary.
Description
From the creators of the Caldecott Honor Book Song of the Water Boatman and Other Pond Poems comes a celebration of ubiquitous life forms among us. Newbery Honor-winning poet Joyce Sidman presents another unusual blend of fine poetry and fascinating science illustrated in exquisite hand-colored linocuts by Caldecott Honor artist Beckie Prange.

Ubiquitous (yoo-bik-wi-tuhs): Something that is (or seems to be) everywhere at the same time.

Why is the beetle, born 265 million years ago, still with us today? (Because its wings mutated and hardened). How did the gecko survive 160 million years? (By becoming nocturnal and developing sticky toe pads.) How did the shark and the crow and the tiny ant survive millions and millions of years? When 99 percent of all life forms on earth have become extinct, why do some survive? And survive not just in one place, but in many places: in deserts, in ice, in lakes and puddles, inside houses and forest and farmland? Just how do they become ubiquitous?
Praise For Ubiquitous: Celebrating Nature's Survivors…
"The creators of the Caldecott Honor Book Song of the Waterboatman and Other Pond Poems (2005) offer another winning blend of poetry, science, and art in this picture-book collection that celebrates the Earth's most resilient and long-lived species."—Booklist, starred review "The team behind the Caldecott-Honor winning Song of the Water Boatman pays tribute to biologically successful species—from mollusks and lichens to dandelions and sharks—in poems that appear in order of each animal's first appearance on earth (a striking, mazelike time line puts the billions of years into perspective)...Fascinating factual information appears on each page; the graceful integration of science and art results in a celebratory story of survival."—Publishers Weekly, starred review "This volume of beautifully illustrated poems investigates the natural world, from the single-celled bacteria and diatom to the ever-present ant and dandelion. Well-researched science facts are paired with vivid poems to describe how these very special life-forms avoided extinction to become nature's survivors...From the depiction of ant tunnels to the surprising perspective of blades of grass, the bold and colorful linocuts are incredibly detailed and successfully capture the essence of each creature as part of its larger environment. A delightful feast for the eyes, ears, and mind."—School Library Journal, starred review "Sidman delights with another gorgeous collection of poems celebrating the natural world, this time focusing on species remarkable for their ability to adapt and thrive in an often-harsh world...The text is accompanied and frequently surrounded by Prange's arresting linocuts hand-colored with watercolor. Vibrant and compelling, the illustrations help create and sustain the sense of wonder that makes this collection truly special. Occupying the endpapers is an eye-opening timeline that marks the appearance of each species on a coiled string that strikingly dramatizes the long march of life on Earth. Lovely."—Kirkus, starred review "From the creators of Song of the Water Boatman & Other Pond Poems (rev. 5/05), fourteen additional deft poems extended by background information and entrancing illustrations...Prange drenches her bold linocuts in vivid watercolor-the translucent underside of a wave, a gorgeous sunset over a pack of ever-more-ubiquitous coyotes. She's master of both the precisely observed (dandelions from bud to seeds aloft) and the accurate impression (crows conversing)."—Horn Book, starred review

"It's a true collaboration. There's a back and forth to this book that you don't always feel in collections of poetry....It's certainly a beautiful book....Hold on to it."—Betsy Bird, Fuse #8   —
Clarion Books, 9780618717194, 40pp.
Publication Date: April 5, 2010
About the Author
The Newbery Honor winner and Sibert Medalist Joyce Sidman is today's foremost nature poet for children.  Accolades for her books include two Caldecott Honors, a Lee Bennet Hopkins Award, winner of the Claudia Lews Award, and many stars and best of lists.  For her award-winning body of work, she won the Award for Excellence in Poetry for Children. She lives in Wayzata, Minnesota. Visit www.joycesidman.com
Beckie Prange lives in Ely, Minnesota. Her first book received a Caldecott Honor.  
Book Videos