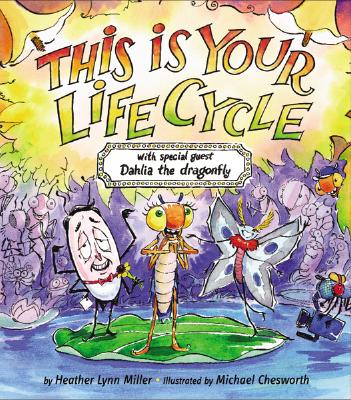 This is Your Life Cycle (Hardcover)
Clarion Books, 9780618724857, 32pp.
Publication Date: July 1, 2008
* Individual store prices may vary.
or
Not Currently Available for Direct Purchase
Description
In this hilarious and inventive picture book, your host, Bob Beetle, takes special guest Dahlia Dragonfly down memory lane, highlighting the most influential creatures and experiences during her time as a nymph. You'll meet three mystery guests, who'll share their personal stories about Dahlia, and along the way you'll find out about the different stages of a dragonfly's life, the various predators they face, what they eat, and other amazing facts. And who knows what else might happen because, as always, we'll be filming live in front of our all-insect studio audience!
Filled with fun and humor, this book is as entertaining as it is informative. So please join us for an evening of laughter, thrills, and the thorax-warming memories that make every life cycle its own fascinating story.
Praise For This is Your Life Cycle…
"The guest on today's edition of the titular insect interview show is Dahlia the Dragonfly, and as host Bob Beetle escorts her down memory lane, nymph Dahlia relives key moments in her development.  She recognizes the offstage voice of her mother and at their happy reunion she learns how Mom laid more than 800 eggs in porous grass blades ("I was so exhausted when I finished, I just sat down and died").  Next up is a more ominous guest, a box turtle that tried to eat her shortly after she broke free of her egg case ("Before I had a chance to gobble you up, you disappeared under a pile of dead leaves").  Just as Dahlia boasts about her ability to jet through the water via a rear-end pump, her "twin" brother shows up bragging about how he beat her to a swarm of mosquito larvae.  Dahlia's now so excited, she breaks right out of her exoskeleton, transforms into an adult dragonfly, and like all good predators and many ill-mannered talk-show guests, turns against the insect audience.  A wealth of information on insect life stages is embedded in this clever romp, and the cartoon-styled characters, dialogue-bubble conversations, and deadpan Bob Beetle patter are a hoot.  A handful of Q&A entries round out the title, offering more nuanced commentary on the giddy presentation.  Although clearly designed for solo reading, this fairly screams to be performed, and the smart money says lots of classroom teachers will be mocking up wing sets in preparation for a goofy reenactment."--The Bulletin of the Center for Children's Books  "Presented as a spoof of the old This Is Your Life TV show, this book features Dahlia the dragonfly with mystery  guests, including her mom, who tell about the various stages in the insect's life.  Although the text (much of it in thought balloons) and the lively watercolor and ink cartoons are anthropomorphized and quite humorous, the information is well conveyed.  The egg-laying process is discussed, but there is no explanation of mating per se.  A question-and-answer page contributes additional material.  This book is similar in tone to Doreen Cronin's Diary of a Worm (2003) and her other Diary . . . books (HarperCollins).  Life Cycle, however, gives more information and lively illustrations in Miller's book."--School Library Journal  
Advertisement