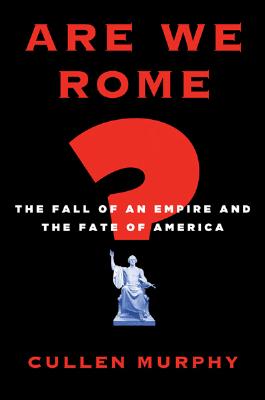 Are We Rome?: The Fall of an Empire and the Fate of America (Hardcover)
The Fall of an Empire and the Fate of America
Houghton Mifflin Harcourt, 9780618742226, 272pp.
Publication Date: May 1, 2007
* Individual store prices may vary.
or
Not Currently Available for Direct Purchase
Description
The rise and fall of ancient Rome has been on American minds from the beginning of our republic. Today we focus less on the Roman Republic than on the empire that took its place. Depending on who's doing the talking, the history of Rome serves as either a triumphal call to action or a dire warming of imminent collapse.

The esteemed editor and author Cullen Murphy ventures past the pundits' rhetoric to draw nuanced lessons about how America might avoid Rome's demise. Working on a canvas that extends far beyond the issue of an overstretched military, Murphy reveals a wide array of similarities between the two empires: the blinkered, insular culture of our capitals; the debilitating effect of venality in public life; the paradoxical issue of borders; and the weakening of the body politic though various forms of privatization. He persuasively argues that we most resemble Rome in the burgeoning corruption of our government and in our arrogant ignorance of the world outside -- two things that are in our power to change.

In lively, richly detailed historical stories based on the latest scholarship, the ancient world leaps to life and casts our own contemporary world in a provocative new light.
Praise For Are We Rome?: The Fall of an Empire and the Fate of America…
"Are We Rome? is just about a perfect book . . . I wish every politician would spend an evening with this book." --James Fallows, international correspondent for The Atlantic Monthly

"Elegant, learned, and graceful . . . this is a disturbing book brimming with hope." --E.J. Dionne Jr., syndicated columnist, and author of Why Americans Hate Politics

"Cullen Murphy has written a book of remarkable richness . . . brisk, learned, and highly entertaining." --Samantha Power, Pulitzer Prize-winning author of A Problem From Hell

"This is a lovely book . . . It may be the most important thing written about the U.S. government in many years." --Thomas E. Ricks, author of Fiasco: The American Military Adventure in Iraq, and military correspondent for The Washington Post

"Cullen Murphy gives a thoughtful, entertaining look around." --Richard Brookhiser, author of What Would the Founders Do?
Advertisement