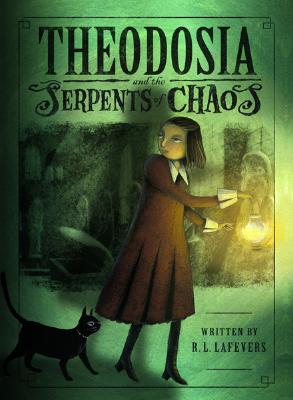 Theodosia and the Serpents of Chaos (Hardcover)
Houghton Mifflin Books for Children, 9780618756384, 344pp.
Publication Date: April 1, 2007
* Individual store prices may vary.
or
Not Currently Available for Direct Purchase
Description
Theodosia Throckmorton has her hands full at the Museum of Legends and Antiquities in London. Her father may be head curator, but it is Theo—and only Theo—who is able to see all the black magic and ancient curses that still cling to the artifacts in the museum.

When Theo's mother returns from her latest archaeological dig bearing the Heart of Egypt—a legendary amulet belonging to an ancient tomb—Theo learns that it comes inscribed with a curse so black and vile that it threatens to crumble the British Empire from within and start a war too terrible to imagine. Intent on returning the malevolent artifact to its rightful place, Theo devises a daring plan to put things right. But even with the help of her younger brother, a wily street urchin, and the secret society known as the Brotherhood of the Chosen Keepers, it won't be easy . . . she quickly finds herself pursued down dark alleys, across an ocean, through the bustling crowds of Cairo, and straight into the heart of an ancient mystery. Theo will have to call upon everything she's ever learned in order to prevent the rising chaos from destroying her country—and herself!
Praise For Theodosia and the Serpents of Chaos…
Intrepid Theosodia, age 11, narrates a fantasy steeped in invented and authentic Egyptology, clashing secret societies and pre-WWI European intrigue.
Kirkus Reviews

It's the delicious, precise, and atmospheric details (nicely extended in Tanaka's few, stylized illustrations) that will capture and hold readers, from the contents of Theodosia's curse-removing kit to descriptions of the museum after hours, when Theodosia sleeps in a sarcophagus to ward off the curses of "disgruntled dead things." Kids who feel overlooked by their own distracted parents may feel a tug of recognition as Theodosia yearns for attention, and those interested in archeology will be drawn to the story's questions about the ownership and responsible treatment of ancient artifacts. A sure bet for Harry Potter fans, as well as Joan Aiken's and Eva Ibbotson's readers. This imaginative, supernatural mystery will find word-of-mouth popularity.
Booklist, ALA, Starred Review

"Vivid descriptions of fog-shrouded London and hot, dusty Cairo enhance the palpable gothic atmosphere, while page-turning action and a plucky, determined heroine add to the book's appeal. . . A fine bet for a booktalk to classes studying ancient Egypt." School Library Journal

"There are surprises aplenty in LaFevers's spirited debut, a sort of Indiana Jones for girls and a perfect blend of mystery and humor. . . . Loads of evocative Egyptian history and an oh-so-plucky, resourceful narrator make this the first volume in a series to watch." Publishers Weekly, Starred

"Danger, mysterious museums stuffed with exotic treasures, and children who best adult evildoers are surefire ways to engage young readers, and LaFevers has combined them to good advantage here." Bulletin of the Center for Children's Books

"...with Theo Throckmorton...girls have a truly independent role model." TimeOut New York

"Readers interested in archaeology will be drawn to the story's questions." Book Links January 2008 Book Links, ALA
Advertisement