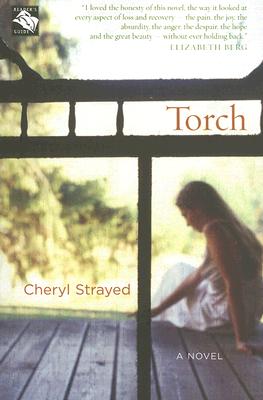 Torch (Paperback)
Mariner Books, 9780618772100, 336pp.
Publication Date: January 1, 2007
Other Editions of This Title:
Digital Audiobook (11/19/2012)
Paperback (10/12/2012)
Hardcover (2/1/2006)
* Individual store prices may vary.
Description
"Work hard. Do good. Be incredible!" That's the advice Teresa Rae Wood gives the listeners of her popular local radio show, Modern Pioneers, and she has taken it to heart in her own life. She fled a bad marriage, escaping to Midden, Minnesota (pop. 408), where she fell in love with a carpenter who became a loving stepfather to her children, Claire and Joshua. Now Claire is away at college, Joshua is laboring through his senior year of high school, and Teresa and Bruce are working to make ends meet. Despite their struggles, their love for each other binds them as a family. Then they receive the devastating news that Teresa has cancer and at thirty-eight may have less than one year to live. Those she will leave behind face something previously unimaginable -- a future without her.

In Torch, the award-winning writer Cheryl Strayed creates from one family's shattering experience a novel infused with tenderness, compassion, and beauty.
Praise For Torch…
"I loved the honesty of this novel, the way it looked at every aspect of loss and recovery -- the pain, the joy, the absurdity, the anger, the despair, the hope and the great beauty -- without every holding back." --Elizabeth Berg

"A deeply honest novel of life after catastrophe, of intimacy lost and found." O, The Oprah Magazine

"Beautifully written and authentic in its portrayal of the unexpected fallout a family death can engender." People Magazine

"In language that's lyrical and haunting, Cheryl Strayed writes about bliss and loss, about the kind of grace that startles and transforms us in ordinary moments." --Ursula Hegi, author of Stones from the River

"Lovely." Entertainment Weekly

"A literary balm for those who know what it means to lose a parent." The Oregonian

"Shows how death can untie, and hopefully, in time, affirm, familiar bonds." The San Francisco Chronicle

"Cheryl Strayed proves a master of the little and the big, the telling details that cement the book's larger themes in mind and memory . . . an irresistibly engaging debut read." Minneapolis Star-Tribune

"[Strayed] goes fearlessly into this place of raw grief and inappropriate lust and desperate love . . . [her characters] live dense, perplexing, fascinating, and authentic lives." --Book World The Washington Post

"Torch is a steady stream of finely wrought portrayals of nuance, moments, and emotions." Newsday

"A hauntingly beautiful story written with tenderness and endowed with true insights into the frailty of relationships." Kirkus Reviews

"We know these characters so well and with such intricate understanding that their lives belong to us in a way that is the rare gift of fiction and a particular triumph of Strayed's wise and beautiful novel." --Susan Richards Shreve

"Strayed knows how to balance the heartache with humor, and the spiritual with the mundane, to create characters you begin to know like friends." --Pages

"Strayed writes fierce truths about how we live, [with] compassion, humor, and uncanny precision." --Sandra Scofield

"This book is a wonderful and heartening accomplishment." --George Saunders

"Shimmers with a humane grace." Philadelphia Weekly

"An unforgettable read." Library Journal
or
Not Currently Available for Direct Purchase