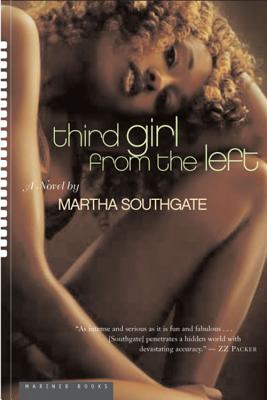 Third Girl from the Left
Paperback

* Individual store prices may vary.
Other Editions of This Title:
Hardcover (9/1/2005)
Description
At the center of this dazzling novel is Angela, a twenty-year-old beauty who leaves the stifling conformity of Oklahoma to search for fame during the rise of blaxploitation cinema in Los Angeles. But for her mother, Mildred, a strait-laced survivor of the 1921 Tulsa race riots, Angela's acting career is unforgivable, and the distance between them grows into a silence that lasts for years. It is only when Angela's daughter, Tamara, a filmmaker, sets out to close the rift between them that the women are forced to confront all that has been left unspoken in their lives.

Bold and beautifully written, Third Girl from the Left deftly explores the bonds of family and the inextricable pull of the movies.
Praise For Third Girl from the Left…
"As intense and serious as it is fun and fabulous . . . [Southgate] penetrates a hidden world with devastating accuracy." --ZZ Packer

"Third Girl from the Left tells about the other side of Hollywood in the seventies -- of what it means to be black, sexy, smart, and full of dreams in a land where 'blaxploitation' is as literal as it sounds . . . As intense and serious as it is fun and fabulous." --ZZ Packer, author of Drinking Coffee Elsewhere

"Third Girl from the Left will be justifiably praised as a fine, pulls-no-punches portrait of growing up black and female in 'modern' America, but what amazes me almost more than Southgate's daring is her versatility: she can write fast and hot, then lush and tender, then just plain truthful and burning with heart." --Julia Glass, author of Three Junes, winner of the National Book Award

"Martha Southgate's novel is a loving portrait of three generations of women, as cinematic as any that has been rendered on the big screen. Third Girl from the Left is a powerful testament to mothers and daughters, and how differently we all dream." --Veronica Chambers, author of Miss Black America

"Martha Southgate's vivid, spirited novel Third Girl from the Left is largely about families -- not just the ones we're born into, but the ones we make for ourselves. But it's also about movies and the hold they can have on us, sometimes even despite our better judgment." The Chicago Tribune

"Third Girl from the Left gives us the flip side of Hollywood's glitz and glamour . . . A gripping tale." --Essence

"A graceful, insightful novel." Elle

"Here are two things you'll know for certain after reading Third Girl from the Left: family communication is important, and there's just about nothing cooler than a soul sister in 1970s Los Angeles." The New York Times

"A book with blood in its veins." Newsday

"Erotic love, mother love, movie love: whatever form of desire she describes, Martha Southgate has come up with a voice to adore." TimeOut New York
Mariner Books, 9780618773381, 272pp.
Publication Date: September 5, 2006
About the Author
MARTHA SOUTHGATE was born and raised in Cleveland. She received her B.A. from Smith College and an M.F.A. from Goddard College. She has been an editor at Essence, a reporter for Premiere and the New York Daily News, and a contributor to the New York Times. She is the author of the critically acclaimed novel The Fall of Rome. Southgate lives in Brooklyn, New York.