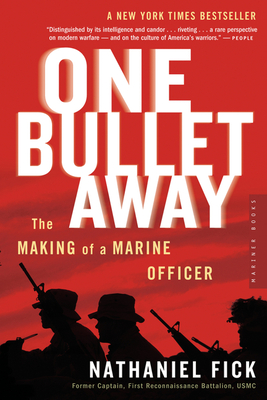 One Bullet Away
The Making of a Marine Officer
Paperback

* Individual store prices may vary.
Other Editions of This Title:
Hardcover (1/1/2005)
Description
If the Marines are "the few, the proud," Recon Marines are the fewest and the proudest. Nathaniel Fick's career begins with a hellish summer at Quantico, after his junior year at Dartmouth. He leads a platoon in Afghanistan just after 9/11 and advances to the pinnacle—Recon— two years later, on the eve of war with Iraq. His vast skill set puts him in front of the front lines, leading twenty-two Marines into the deadliest conflict since Vietnam. He vows to bring all his men home safely, and to do so he'll need more than his top-flight education. Fick unveils the process that makes Marine officers such legendary leaders and shares his hard-won insights into the differences between military ideals and military practice, which can mock those ideals.

In this deeply thoughtful account of what it's like to fight on today's front lines, Fick reveals the crushing pressure on young leaders in combat. Split-second decisions might have national consequences or horrible immediate repercussions, but hesitation isn't an option. One Bullet Away never shrinks from blunt truths, but ultimately it is an inspiring account of mastering the art of war.
Praise For One Bullet Away: The Making of a Marine Officer…
"Fick's writing style sets this book apart from other accounts of recent conflicts and guarantees One Bullet Away a place in the war memorial hall of fame." USA Today

"Harrowing . . . deserves close reading and serious discussion." The Washington Post

"What One Bullet Away accomplishes, in a way all the blather on cable TV never will, is to give readers real insights into the modern war and its warriors." --Rocky Mountain News

"Fick makes a fascinating contribution to the growing shelf of soldiers' tales with his insight into the minds of today's young officers." Boston Magazine

"The best sign of military intelligence." Gentleman's Quarterly

"Provides a close-up and often harrowing look at [his] service both in Iraq and Afghanistan." U.S. News & World Report

"Much more than a simple dispatch from the fronts of Afghanistan and Iraq, One Bullet Away finds Nathaniel Fick reaching deep within his heart and soul. culling up the irony, frustration, humor, tragedy, and -- more than anything else -- the pathos that informs the enterprise of war." --Military.com

"Fick sounds like precisely the kind of thoughtful, mature commander any soldier would revere." Cleveland Plain Dealer

"Ponders the nature of leadership and war . . . A tough-minded, beautifully written account." Men's Journal

"Rapid-fire, vertiginous . . . Fick brilliantly evokes the split second before the first muzzle flashes of an ambush...His story is truly -- as one Marine motto has it -- leadership by example." --National Review

"A compelling and exciting memoir of military service, swift in its pacing and sure in its details. The courage, selflessness, and skill of Marines are intensely portrayed here and are -- in the highest and rarest praise for a military memoir -- unmistakably authentic." --Senator John McCain

"Nathaniel Fick shares a powerful account of the bravery of the Marines and the simple truth every soldier shares: that war is hell. Our troops on the ground in Iraq and Afghanistan are heroes who have sacrificed to serve our country, and in these pages we are reminded of their courage under fire. Fick's story is testimony to their struggle." --Senator John Kerry

"A gripping account of twenty-first-century war by a twenty-first-century warrior. Perhaps most astounding is Nathaniel Fick's candor concerning his own emotions, fears, and moral quandries as he rises to the challenge of leadership. Fick has written the story of our times." --Evan Wright, author of Generation Kill

"A splendid story of a young Marine officer's journey from a promising begining to the truth and horror of combat. He pulls no punches in a book that is hard to put down." --Joseph L. Galloway, coauthor of We Were Soldiers Once . . . and Young

"This is the war on terrorism at the working level, where it's very cold or very hot, where you're dirty and you don't get much sleep, and your life can be over in the next breath. Washington poobahs do grand strategy; people like Fick do the work. This is their story of the fighting in Afghanistan and Iraq. Fick's book makes those wars become real, with all the heroism and the mistakes that still come with ground combat." --Richard A. Clarke, author of Against All Enemies

"A superb account of the challenges that confront a young officer in today's conflicts. Fick offers exceptionally vivid descriptions of leadership, duty, and brotherhood under fire. One Bullet Away is brilliant, a must-read for anyone who wants to truly understand what our troops face." --General Anthony C. Zinni, USMC (ret.), former commander in chief, U.S. Central Command, and coauthor of Battle Ready

"A brilliant, no-bullshit piece of under-the-helmet reporting. One Bullet Away is much more than a chronicle of war. It illuminates a man's mind and heart as he is thoroughly transformed by training and combat." --Steven Pressfield, author of Gates of Fire

"This is one of the best books on the Marine Corps in a long time. If you want to understand what it takes to become a Marine today, read this. Then, if you want to really understand what it takes to serve in today's wars, read it again. One Bullet Away is a terrific book by a natural writer." --Tom Ricks, military correspondent, Washington Post, and author of Making the Corps

"A remarkable book that will give today's readers a much fuller picture of the realities of their military, and that will be read for many years to come because of its vivid, humane, unsparing but also humorous portrayal of the making of a warrior." --James Fallows, national correspondent, Atlantic Monthly

"Far more than a glory-soaked collection of war stories, this memoir proves the ideal of the scholar-soldier is alive and well. One can hardly imagine a finer boots-on-the-ground chronicle of this open-ended conflict, no matter how long it may last." Kirrkus Reviews, Starred

"Essential . . . candid and fast-paced . . . Like the best combat memoirs, Fick's focuses on the men doing the fighttting and avoids hyperbole and sensationalism. He does not shrink from the truth, however personal or unpleasant." Publishers Weekly

"The psychological distance between those who serve and fight and those who publish and pontificate is vast. Nathaniel Fick has closed the gap considerably with this fine book." --Robert D. Kaplan, author of Imperial Grunts: The American Military on the Ground

"The Marines develop leaders who are not only skilled, courageous, and tough, but also humane. Join one of them as he leads a Recon platoon to Baghdad and beyond. One Bullet Away is a riveting and highly charged account of modern war as seen through the eyes of a young lieutenant." --Lieutenant General Bernard E. Trainor, USMC (ret.), author of Cobra II

"One Bullet Away is much more than a war story. It recounts a young officer's daily duty to lead, to make ethical decisions, and to balance the immense responsibilities of accomplishing missions and saving lives. These lessons are as useful in the boardroom as on the battlefield." --Marshall N. Carter, retired Fortun 500 CEO and two-tour Marine infantry officer in Vietnam

"Distinguished by its intelligence and candor . . . a rare perspective on modern warfare -- and on the culture of America's warriors." People Magazine

"Makes a compelling argument for an oft-overlooked military virture: competence." The New York Times

"Fick and his men come across as America's dream fighting force: hypercapable, ever vigilant, wire-tough, and loyal to the end." Outside
Mariner Books, 9780618773435, 400pp.
Publication Date: September 7, 2006
About the Author
After receiving a BA in classics from Dartmouth, Nathaniel Fick served as an infantry oficer and then as an elite Recon Marine. He saw action in Afghanistan and Iraq before leaving the Corps as a captain. He is now a Fellow at the Center for a New American Security in Washington, D.C. He is the author of the New York Times bestseller ONE BULLET AWAY. Fick is a member of the Council on Foreign Relations and the International Institute of Strategic Studies, and serves as a Director of the Marine Corps Scholarship Foundation and the Rockefeller Center for Public Policy at Dartmouth College. He holds a B.A. from Dartmouth, an MBA from the Harvard Business School, and an MPA in international security policy from Harvard's John F. Kennedy School of Government.
Book Videos
Coverage from NPR