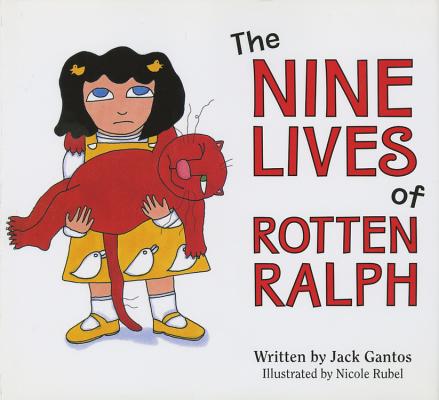 The Nine Lives of Rotten Ralph (Hardcover)
Houghton Mifflin, 9780618800469, 32pp.
Publication Date: April 1, 2009
* Individual store prices may vary.
or
Not Currently Available for Direct Purchase
Description
Poor Rotten Ralph. His health just isn't what it used to be. Thanks to his rotten ways, he's down to the very last of his nine lives!
One more slip and he'll be gone forever," warns the vet.
Sarah, Ralph's doting owner, is fiercely determined to keep her cat safe. But how much coddling can Ralph take before he has to do something totally and utterly rotten?
In this ninth tale about the most delightfully disobedient cat in town, being naughty has never looked so good to Rotten Ralph. But then again, after a hard day's rotten work, neither does the warmth and safety of Sarah's lap!
Praise For The Nine Lives of Rotten Ralph…
"At his owner Sarah's request, a forlorn Ralph recaps (in thought bubbles) how he lost his eight lives, providing a quick tour of his previous eight picture-book misadventures, a reminder of just how uproarious—and timeless—these stories are . . . Gantos and Rubel remain in perfect comic sync, as wryly understated text and dynamic art deliver Ralph at his rotten best."--Publishers Weekly, starred review

"As chubby and malicious-looking as ever, Ralph occupies the visual center in each of Rubel's bright, stylized scenes and, 33 years since his first outing, is as much a poster cat for vicarious acting-up as ever. His resolve to live his last life as vigorously as his first eight may inspire adult readers more than children, but there's nothing wrong with that."--Kirkus Reviews

"Rubel and Gantos have always been the perfect wicked team, and Rubel's sly caricatured art vividly fills in the details of Ralph's memories as he recounts to Sarah how each life got starved, shaken, carried, and snowballed away in one of the previous picture books. Does this mean Ralph will from now on adhere to Sarah's prescription of an extra-cautious ninth life, spent riding in a baby carriage, downing vitamins, and never going outside to carouse with his alley-cat buddies? Ralph fans know the answer already."--Horn Book

"Deadpan storytelling and brightly colored, somewhat zany ink-and-wash artwork combine for a decidedly droll and sometimes hilarious picture book"--Booklist

"Ralph's fans won't want to miss this latest offering."--School Library Journal
Advertisement