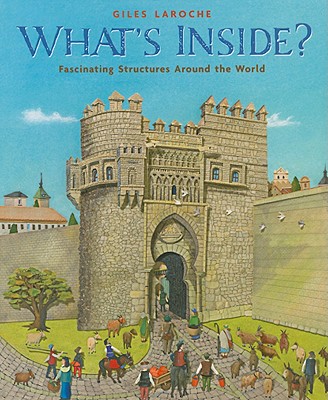 What's Inside?
Fascinating Structures Around the World
Hardcover

* Individual store prices may vary.
Description
As it takes us on a tour of some of the most unique and beautiful structures, this book shows how the purpose of each structure dictated its design, or location. Here are soaring glass skyscrapers (for working people) and a humble stone barn (for working animals); a sealed tomb hewn out of a limestone hillside (for buried reasure) and a majestic marble building, honoring a goddess. As it reveals what lies inside each structure, this book gives insight into the people who designed these buildings -- into their hopes, their lives, and their concepts of beauty. Included -- for budding engineers and architects -- are statistics such as the year built, square footage, materials used, height, and other little known statistics.

Structures included are: Tomb of Tutankamumn in Thebes, Egypt The Parthenon in Athens, Greece Temple of Kukulcan in Chichen Itza, Mexico Buddha's Place in Shanxi Province, China Walled city of Toldeo in Spain Alcazar Castle in Segovia, Spain Independence Hall in Philadelphia Shaker dairy barn in Hancock, MA A Circus big top tent, which traveled to many American cities The Guggenhem Museum in NYC The Sydney Opera House in Sydney, Australia The Petrona Towers in Kuala Lumpur, Malaysia The Georgia Aquarium in Georgia, Atlanta
Praise For What's Inside?: Fascinating Structures Around the World…
"In his first book as both author and illustrator, Laroche uses his trademark collage technique, combining drawing, painting, and cut-paper. This isn't a lift-the-flap, question-and-answer title to browse through quickly. The minute detail celebrates the awe-inspiring constructions with a focus reminiscent of David Macaulay's work. This will have many grade-schoolers poring over the pages for a long time."--Booklist

"Bas-relief cut-paper collages and brief text take readers on a tour of unique architectural structures around the world."--Kirkus Reviews

"The text is good, the organization is clever, but it's the art here that is truly masterful. The illustrations are made from layers and layers of cut and painted paper, and in fact may be considered sculpture–the visible dimensionality gives each page a deep tactile quality. Animals, people, domestic scenes, and landscapes both natural and manmade are depicted with skill and charm: the intricacy of this art will hold readers spellbound. The book is brought to a satisfying close with a loving re-creation of a North American small-town street and the interior of a lighted room in which two children create ziggurats and temples out of blocks and read What's Inside?"--School Library Journal

"Laroche deploys the guessing-game structure and fabulously detailed collages to intrigue an older set of readers . . . structurs hold visual surprises . . . This is an obvious draw for viewers who delight in . . . detail, and also an inspiration for kids with scissors, paper, and patience."--The Bulletin
Houghton Mifflin Harcourt (HMH), 9780618862474, 40pp.
Publication Date: April 1, 2009
or
Not Currently Available for Direct Purchase