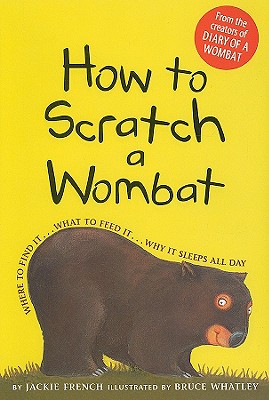 How to Scratch a Wombat: Where to Find It . . . What to Feed It . . . Why It Sleeps All Day (Hardcover)
Where to Find It . . . What to Feed It . . . Why It Sleeps All Day
Clarion Books, 9780618868643, 85pp.
Publication Date: February 1, 2009
* Individual store prices may vary.
or
Not Currently Available for Direct Purchase
Description
What's the best way to scratch a wombat? Well, if it's a wombat that's familiar with humans, says author Jackie French, you rub the bony ridge along its back or behind its ears. And the harder you scratch, the better the wombat likes it. For more than thirty years, Jackie French has lived in the Australian bush, coexisting with wild wombats. In this cross between memoir and natural history, Jackie shares her often hilarious adventures with her wombats neighbors and describes their physiology, history, and habits. Bruce Whatley adds pencil drawings in both comic and realistic styles. It's a book that's perfect for the budding naturalist. It's an easy read. It's full of funny stories. It's science with a heart.
About the Author
Bruce Whatley has been writing and illustrating children's books for over ten years. His Detective Donut and the Wild Goose Chase (HarperCollins) was among the Koala Awards Top 50. He grew up in England and now lives with his family in Australia.
Praise For How to Scratch a Wombat: Where to Find It . . . What to Feed It . . . Why It Sleeps All Day…
In an equally beguiling companion to their award-winning Diary of a Wombat (2003), French and Whatley collaborate on an introduction to wombats and their behavioras offered through the author's 30+ years of having them as neighbors and caring for injured ones in South New Wales.  After opening with her credentials (I've also looked after orphaned baby wombatscuddly, furry creatures that wreck your kitchen and take over your life'), she covers the animals' ancestry, appearance (hairy brown rocks with legs'), feeding habits, minds (such as they are), relations with humans and life cycle.  Readers will come away understanding that they are wild animals despite their fondness for carrots and a good scratch on the back and that they can be enjoyable to have around so long as one doesn't mind the occasional broken door or bite on the butt.  They are also, as Whatley shows in frequent close-ups and vignettes, impossibly cute.  This shorter version of a 2005 title published Down Under is as irresistible as its subject."Kirkus Reviews, STARRED review The writer and illustrator of Diary of a Wombat (2003) now offer a genial guide to wombats.  French, who has encountered a fair number of these Australian marsupials in her garden and raised orphaned babies to return to the wild, provides a short history of wombats along with precise information about their physical characteristics, habits, diets, homes, senses, communication, mating, and rearing of young.  Written in first person in an engaging, informal style, the book includes plenty of anecdotes (one amazing wombat used a lever to move a boulder) and practical advice (sing softly when approaching a wombat).  Short, entertaining quizzes in sidebars will grab readers who want to settle questions that probably had not occured to them: Who's the greatest?  You or a wombat?'  Created using pencil, ink, and acrylics, black-and-white illustrations offer appealing portrayals of wombats in action as well as drawings of their paw prints, droppings, skulls, and burrows.  Affectionate, amusing, and informative."Booklist The book concludes with explanations of how to observe wombats in the wild and the contemporary threats to their habitat. A final summation of What I've Learned from Wombats' provides a deft set of life lessons for youngsters. This is a congenial selection for animal lovers that could also be a fun item for booktalking."School Library Journal Wildlife and animal lovers will undoubtedly burrow right into thisadults should be prepared for requests for a field trip to the zoo, or to the bush."The Bulletin of the Center for Children's Books  
Advertisement