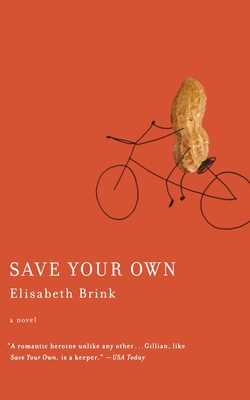 Save Your Own
Paperback

* Individual store prices may vary.
Other Editions of This Title:
Hardcover (6/1/2006)
Description
Meet Gillian Cormier-Brandenburg: a virginal, narcoleptic, atheistic Harvard Divinity School student struggling to finish her Ph.D. thesis. When her fellowship is revoked, Gillian must venture outside the walls of academia in search of a new source of income as well as interview subjects for her dissertation. She takes a job at Responsibility House, a halfway house for recovering addicts. Here pintsize Gillian is charged with the unlikely task of imposing order on unruly tenants, including motorcycle-obsessed Janet, impulsive former prostitute Florine, and self-righteous Stacy, who begin to inspire her to rethink her own dreams and desires.

A delightful read for all those who have ever wished they could be a little more than they are, Save Your Own is the perfect self-made Cinderella story.
Mariner Books, 9780618871933, 288pp.
Publication Date: June 8, 2007
About the Author
ELISABETH BRINK worked in publishing, counseling, and high-tech marketing before earning a Ph.D. in American literature. Since then she has taught writing and literature at Harvard, Tufts, and Boston College. Her fiction has garnered her fellowships in Prague and St. Petersburg, and her stories were nominated for a Pushcart Prize by the late Andre Dubus. She lives in Newburyport, Massachusetts.
Do you consider Gillian a strong character? Why or why not? How would you define strength?
Some of the characters in the book are former criminals and drug addicts. How—if at all—do you think this might have affected the way you viewed them as you were reading the book?
Which characters did you sympathize with most? Which characters did you find the least sympathetic? How did your sympathies shift over the course of the novel?
The comic scenes in the novel sometimes veer close to the slapstick, as when Gillian runs up the stairs yelling "A-E-I-O-U and sometimes Y!" at the top of her lungs, or when she tries to teach the women grammar by shouting out "Remember Eliza!" at the dinner table. Discuss the role humor plays in these scenes and throughout the story. How does comedy contribute to the way we experience the book?
Much of the conflict at Responsibility House occurs between Stacy, a rigid rule follower, and the rebellious Janet. Which character is more responsible? More admirable?
Parts of the plot revolve around the rules laid out in Responsibility House's Handbook of Policies and Procedures. At first Gillian struggles to enforce them, but as time goes on she begins to question them. What leads to this change in her understanding?
Why is it important to Gillian to write the Pink Book, which reduces the number of rules to two? Do you see the Pink Book as an improvement over the Handbook of Policies and Procedures? Why or why not? What are the dangers inherent in each?
Gillian continues working on the subject of "secular conversion experiences" even after the committee tells her that it does not approve of her topic. Why do you think she refuses to change her topic? What does this say about her character and actions?
In your opinion, is there such a thing as a "secular conversion experience"? What are some examples of those experiences in the book? What are some of the ways "conversion" can take place? What else might it be called?
Gillian doesn't think she's capable of having a conversion experience. Do you think she is right? Why or why not?
The epilogue summarizes Gillian's life between the ages of twenty-six, when the story takes place, and forty-five, when she tells it. Why do you think the author included an epilogue? Does your perception of Gillian change after reading it? How? Discuss how her earlier experiences may have helped shape the rest of her life.
What do you think the title, Save Your Own, means?