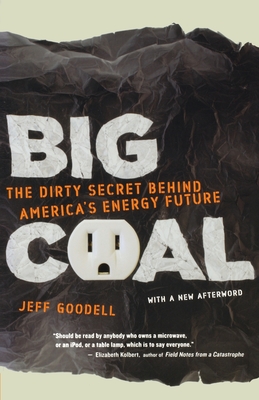 Big Coal
The Dirty Secret Behind America's Energy Future
Paperback

* Individual store prices may vary.
Other Editions of This Title:
Hardcover (6/1/2006)
Description
Long dismissed as a relic of a bygone era, coal is back -- with a vengence. Coal is one of the nation's biggest and most influential industries -- Big Coal provides more than half the electricity consumed by Americans today -- and its dominance is growing, driven by rising oil prices and calls for energy independence. Is coal the solution to America's energy problems?

On close examination, the glowing promise of coal quickly turns to ash. Coal mining remains a deadly and environmentally destructive industry. Nearly forty percent of the carbon dioxide released into the atmosphere each year comes from coal-fired power plants. In the last two decades, air pollution from coal plants has killed more than half a million Americans. In this eye-opening call to action, Goodell explains the costs and consequences of America's addiction to coal and discusses how we can kick the habit.
Praise For Big Coal: The Dirty Secret Behind America's Energy Future…
"[A] compelling indictment of one of the country's biggest, most powerful and most antiquated industries . . . well-written, timely and powerful." The New York Times

"Big Coal gives its readers a clear sense of the tradeoffs we face in our feverish quest for inexpensive energy, and that's more than enough for one book." --Book World The Washington Post

"Big Coal's greatest strength lies in Goodell's ability to tell human stories -- how individuals, families and communities are affected by the mining, production, and consumption of coal." --Rocky Mountain News

"Goodell's writing [is] so fiery and committed." The New York Times Book Review

"Without overloading the reader with scientific jargon or overhwelming statistical information, Goodell does a first-rate job of balancing environmental concerns with interviews from the human faces associated with 'Big Coal.'" Library Journal

"Groundbreaking." Bookpage

"Most people don't know it yet, but whether the world can continue to burn coal is one of the most important questions of the twenty-first century. Big Coal is a major contribution to getting the answer right. Smart, fair, impassioned, and very well written, this is a book that matters." --Mark Hertsgaard, author of Earth Odyssey

"Jeff Goodell's incisive, gripping firsthand report on the second coming of King Coal impacts everyone and everything on earth." --Ralph Nader

"Lucid, penetrating, and long overdue, Big Coal should be required reading for anyone, from policymakers to consumers, who wants to understand what really drives energy politics in America." --Paul Roberst, author of The End of Oil

"Big Coal is an absorbing, urgently important book. Jeff Goodell does a marvelous job exposing the hidden workings of a deeply entrenched industry and showing how our use of coal poses a grave threat to our collective future." --Barbara Freese, author of Coal: A Human History

"Long after we have run out of oil and natural gas, we will still have coal. As Jeff Goodell compellingly documents, this is a blessing that is also a curse. Big Coal should be read by anybody who owns a microwave, or an iPod, or a table lamp, which is to say everyone." --Elizabeth Kolbert, author of Field Notes From A Catastrophe

"Jeff Goodell's Big Coal is a rousing job of narrative journalism that cuts through the smog of delusion clouding America's energy future, a fascinating and frightening glimpse into the hidden power circuts of American industry and politics." --James Howard Kunstler, author of The Long Emergency
Mariner Books, 9780618872244, 352pp.
Publication Date: April 3, 2007
About the Author
JEFF GOODELL is a contributing editor for Rolling Stone and a frequent contributor to the New York Times Magazine. He is the author of the New York Times bestseller Our Story: 77 Hours That Tested Our Friendship and Our Faith. Goodell's memoir, Sunnyvale: The Rise and Fall of a Silicon Valley Family, was a New York Times Notable Book.
Book Videos