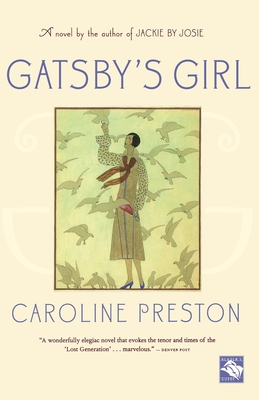 Gatsby's Girl
Paperback

* Individual store prices may vary.
Other Editions of This Title:
Hardcover (5/1/2006)
Description
Just as Jay Gatsby was haunted by Daisy Buchanan in The Great Gatsby, F. Scott Fizgerald was haunted by his own great first love — a Chicago socialite named Ginevra. Alluring, capricious, and ultimately unavailable, she would become his first muse, the inspiration for such timeless characters as Gatsby's Daisy and Isabelle Borge in This Side of Paradise.

Caroline Preston's astute perceptions of her characters and the cultural landscapes they inhabit have earned her work comparisons to to that of Anne Tyler, Alison Lurie, and Diane Johnson. Now, in this richly imagined and ambitious novel, Preston deftly evokes the entire sweep of Ginevra's life — from her first meeting with Scott to the second act of her sometimes charmed, sometimes troubled life.

Ginevra was sixteen, a rich man's daughter who had been told she was pretty far too often for her own good. Scott was nineteen, a poor boy full of ambition. They met at a country club dance in St. Paul, Minnesota, in January 1916. For almost a year they wrote each other letters — so long, breathless, and yearning that they often required more than one envelope.

But despite their intense epistolary romance, the relationship wouldn't last. After throwing him over with what he deemed "supreme boredom and indifference," she impulsively married a handsome aviator from the right society background.

Ruminating over what might have been had she picked the writer instead of the flier, she furtively reads the now famous Fitzgerald's work. When she sees herself — much to her surprise — in his characters, it's not just as the spoiled debutante he'd known; he's also uncannily predicted the woman she's become, cracks and all.

An affecting story of two people, one famous, one known only through her portrayals in enduring works of fiction, Gatsby's Girl is a tremendously entertaining and moving novel about the powerful forces of first love, memory, and art.
Mariner Books, 9780618872619, 336pp.
Publication Date: May 23, 2007
About the Author
CAROLINE PRESTON is a graduate of Dartmouth College and earned her master's degree in American civilization at Brown University. She has worked as a manuscript librarian, both at the Houghton Library at Harvard and the Peabody Essex Museum in Salem, Massachusetts. She is the author of two previous novels, Jackie by Josie (a New York Times Notable Book of the Year) and Lucy Crocker 2.0. She is married to the writer Christopher Tilghman, and they live with their three sons in Charlottesville, Virginia.
For the epigraph of Gatsby's Girl, Caroline Preston offers a line from F. Scott Fitzgerald's classic novel The Great Gatsby: "He talked a lot about the past and I gathered that he wanted to recover something, some idea of himself perhaps, that had gone into loving Daisy . . ." How does Fitzgerald's comment on Jay Gatsby and Daisy Buchanan also bring to mind Preston's account of the relationship between Fitzgerald and Ginevra Perry? How might Fitzgerald's fiction writing have been a way for him to recover something of his own past?
As Preston explains in her author's note, the character of Ginevra Perry is based partly on F. Scott Fitzgerald's first real-life love, Ginevra King, and partly on his fictional creation Josephine Perry. Why do you suppose Preston chose fiction as a way to examine the romance between Ginevra and Scott? What artistic freedom does fiction offer that nonfiction does not? How might this have been a different book had it been history rather than historical fiction?
Gatsby's Girl follows Ginevra Perry from her early teenage years through late life. What is your impression of her at the beginning of the book, during her friendship with Scott? How does your perception of Ginevra change over time? How would you describe her life? Are there elements of tragedy in it?
Ginevra Perry is the daughter of a successful Chicago businessman. What privileges do her father's status and money afford her? Alternatively, what privations are inherent in her upbringing? How are both Ginevra and Scott shaped by their perceptions of social class?
Why does Ginevra Perry throw Scott over? Can the end of their romance be ascribed simply to the fickleness of youth, or does Preston present other factors that may have contributed to their breakup?
The interplay between fact and fiction figures prominently in Preston's novel: Scott reinvents Ginevra as various characters in his novels; Ginevra's son Avery envisions his mother as a real-life version of the film star Myrna Loy; the novel itself offers fictional re-creations of actual events. How does Preston balance reality and imagination in the novel?
Preston gives fascinating details about Chicago society in the 1920s and the effervescent optimism of the Jazz Age. What comment does the novel make on the legacy of the Jazz Age? How does the book work as a commentary on the literary legacy of F. Scott Fitzgerald?
Ginevra marries the aviator Billy Granger, who seems to her to be heroic in ways that Scott is not. Do you understand her choice? Would you have chosen the same? Do you feel Ginevra's later attitudes toward Billy are justified?
Consider Ginevra's relationships with Scott, Billy, Julian, and John. Is any single relationship wholly fulfilling? What does each offer her? Which man do you suppose sees her most clearly, understands her best, and why?
Ginevra considers herself a bad mother who is responsible for her son Avery's psychological problems. Do you agree with her opinion? Do you think Ginevra is changed by Avery's struggles?
When Ginevra and Scott finally meet again at the Beverly Wilshire in Los Angeles, Scott says to her, "I've faithfully avoided seeing you all these years . . . I wanted to keep my illusion of you perfect." Do you think Ginevra was ultimately worthy of his prolonged interest and attention? Why has Scott so carefully preserved his memory of her? Is he more interested in who she was or what she symbolized?
At the end of the book, Ginevra's daughter says that her mother was "mute on the subject of F. Scott Fitzgerald." Why do you think that Ginevra hid Scott's letters and refused to talk about their romance? What regrets do you think Ginevra felt at the end of her life?
If you have read F. Scott Fitzgerald's own work, what similarities are there between Ginevra Perry and Daisy Buchanan in The Great Gatsby or Josephine Perry in Fitzgerald's The Basil and Josephine Stories? What differences are there?
How have your perceptions of F. Scott Fitzgerald and his works changed after reading Preston's novel? In what ways could Gatsby's Girl be considered a response to The Great Gatsby?