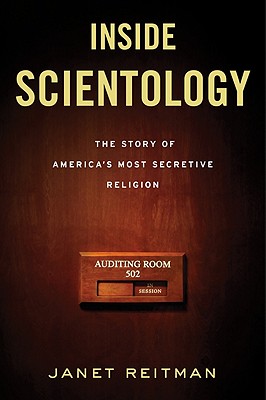 Inside Scientology
The Story of America's Most Secretive Religion
Hardcover

* Individual store prices may vary.
Other Editions of This Title:
Digital Audiobook (7/10/2011)
Paperback (8/6/2013)
MP3 CD (7/11/2011)
Compact Disc (7/11/2011)
Description
Scientology, created in 1954 by a prolific sci-fi writer named L. Ron Hubbard, claims to be the world's fastest growing religion, with millions of members around the world and huge financial holdings. Its celebrity believers keep its profile high, and its teams of "volunteer ministers" offer aid at disaster sites such as Haiti and the World Trade Center. But Scientology is also a notably closed faith, harassing journalists and others through litigation and intimidation, even infiltrating the highest levels of the government to further its goals. Its attacks on psychiatry and its requirement that believers pay as much as tens and even hundreds of thousands of dollars for salvation have drawn scrutiny and skepticism. And ex-members use the Internet to share stories of harassment and abuse. 

Now Janet Reitman offers the first full journalistic history of the Church of Scientology, in an evenhanded account that at last establishes the astonishing truth about the controversial religion. She traces Scientology's development from the birth of Dianetics to today, following its metamorphosis from a pseudoscientific self-help group to a worldwide spiritual corporation with profound control over its followers and even ex-followers. 

Based on five years of research, unprecedented access to Church officials, confidential documents, and extensive interviews with current and former Scientologists, this is the defining book about a little-known world.
Praise For Inside Scientology: The Story of America's Most Secretive Religion…
A
New York Times
Notable Book"[A] meticulously compiled exposé, culled from hundreds of interviews with active Scientologists and defectors alike. [Reitman's] revelations — including abuse allegations against church leader David Miscavige and details about the organization's aggressive courtship of Tom Cruise — come with impressive backup." - Entertainment Weekly"A serious, painstaking investigation of the organization's unique structure and bare-knucled business acumen." - GQ"In a new book,
Inside Scientology: The Story of America's Most Secret Religion
, author Janet Reitman tell the fascinating history of the mysterious organization and its members." - Time.com
"The most complete picture of Scientology so far." –Garry Wills, New York Times Book Review
"Reitman's book delivers all it promises, and it promises a lot… [Reitman] has put together the most masterfully written, narratively rewarding, and thorough yarn about L. Ron Hubbard, David Miscavige, and Scientology and its strange past, present, and possible future….In
Inside Scientology
, we have a thorough, brave journalist backed by a major publisher, and soon what no doubt will be a major publicity push: Reitman's book should soon become Scientology's biggest headache in years." - Village Voice"This book is fearless" - Wall Street Journal"[A] meaty, engaging new book" -Slate.com"[A] meticulously researched history and revealing exposé, a frightening portrait of a religion that many find not just controversial, but dangerous…Throughout the book, the author displays consummate journalistic skills. Her accumulation of evidence is particularly impressive and gives rise to one of the more memorable works of investigative nonfiction in recent years."- Boston Globe
"A well-researched and compelling read" - Los Angeles Times
"[A] richly narrative history of the organization… The book is convincing and compelling. It will be interesting to see how the Scientology leadership responds." - St Louis Post Dispatch"So most journalistic accounts of Scientology fall into two categories: ax-grinding expose or fawning apologism. Fortunately Janet Reitman finds a third way in her authoritative, absorbing "Inside Scientology": nuanced reporting that lets the facts speak for themselves..."Inside Scientology" will remain a thoughtful, fair-minded record of its tumultuous first generation." - San Francisco Chronicle"Inside Scientology is a masterful piece of reporting....a compelling introduction to "America's most secretive religion," as the subtitle has it. Even for those who have no interest in parsing when cults become religions or why faith upends fact, Reitman tells a spellbinding story of a larger-than-life personality whose quirks, ticks and charisma shaped America's newest homegrown religious movement." - Washington Post"INSIDE SCIENTOLOGY is notable for its depth and sweep. Reitman's research pays off not only in rich portrayals of Scientology founder L. Ron Hubbard and current leader David Miscavige, but in intimate portraits of people who have been swept up along the way….Reitman's analysis of Scientology's ability to survive scandal and mockery is compelling and persuasive." - Seattle Times"The inside scoop on Scientology, the steeped-in-secrecy religion of L. Ron Hubbard." - Minneapolis Star Tribune"
Inside Scientology
leaves no scandal unturned in the life of L. Ron Hubbard, underlings, celebrities and cult "slaves" in this story of America's most secretive religion....It is a riveting read not only for its thorough research, and winning style, but because [Reitman] has left no greed undescribed in the 396 page-turner." - Seattle Post Intelligencer"Inside Scientology" by Janet Reitman is an amazing book...a masterful telling of the church's history and the division among its members" - Asbury Park Press"
Inside Scientology
is an engrossing, groundbreaking work that brings a welcome sense of fair-mindedness to a subject that is, for many journalists and scholars, too hot to touch. Reitman has accomplished the miracle of adding light without heat."- Lawrence Wright, author of
The Looming Tower: Al-Qaeda and the Road to 9/11"Inside Scientology
goes beyond the celebrities and the scandals -- though they're here in all their absurdity and horror, too -- to find in Scientology a more profound story about "technology" as an article of faith and faith as a vessel for science, or, at least, science fiction. With courage, empathy, and clarity -- if that word can be reclaimed from L. Ron Hubbard -- Janet Reitman has with this definitive investigation laid bare the genesis and possibly the endgame of America's strangest religion".--Jeff Sharlet, bestselling author of
The Family
and
C Street
"Thoroughly engrossing page-turner on the shape-shifting Church of Scientology...A bizarre and complicated history told with masterful control." -Kirkus Reviews starred

"A detailed and readable examination of the life of L. Ron Hubbard, the founder of the church, and his successor, David Miscavige. The book is rife with astonishing accounts of the abuses of power, the purges, and the climate of fear and intimidation commonplace in the top ranks of the organization." - Publishers Weekly "Janet Reitman spent five years researching and writing Inside Scientology: it was worth the wait… Inside Scientology is now the definitive account of key episodes in the movement's history. For veterans of the campaign against Scientology's excesses, Reitman's book will become an essential resource. For the general public it will be a revelation." --Infinite Complacency
Houghton Mifflin Harcourt, 9780618883028, 464pp.
Publication Date: July 5, 2011
About the Author
JANET REITMAN is a contributing editor at Rolling Stone. Her work has appeared in GQ, Men's Journal, the Los Angeles Times Sunday Magazine, and the Washington Post, among other publications. She holds a master's degree in journalism from Columbia University, and was a finalist for a National Magazine Award in 2007 for the story "Inside Scientology."
or
Not Currently Available for Direct Purchase