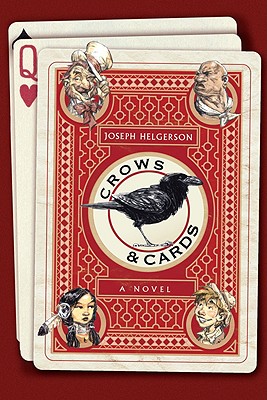 Crows and Cards (Hardcover)
HMH Books for Young Readers, 9780618883950, 352pp.
Publication Date: April 27, 2009
Other Editions of This Title:
Paperback (6/7/2010)
Compact Disc (5/4/2015)
MP3 CD (8/11/2015)
MP3 CD (4/6/2009)
MP3 CD (4/6/2009)
Compact Disc (4/6/2009)
Compact Disc (4/6/2009)
Pre-Recorded Audio Player (7/1/2009)
* Individual store prices may vary.
Description
Three warnings for readers who hate surprises: 1. Beware of slivers, 2. and gamblers, 3. and aces.

Zebulon Crabtree found all that out the hard way back in 1849 when his mother and father shipped him off to St. Louis to apprentice with a tanner. Too bad he had serious allergies to fur and advice from his parents. Hearing the beat of a different drummer, Zeb takes up with a riverboat gambler who has some special plans for him, crosses paths with a slave who turns out to be a better friend than cook, and learns that some Indian medicine men can see even though blind. And then there's the Brotherhood—the one that Zeb can't seem to get out of . . . Lucky for us, the price of living in turbulent times is often a good story, and Zeb spins an unforgettable one.
About the Author
Joseph Helgerson lives in Minneapolis with his wife, daughter, and son.
Praise For Crows and Cards…
"Inspired by Twain's Life on the Mississippi, Helgerson's folksy and chatty tale is also reminiscent of Huckleberry Finn in Zeb's struggles with his conscience and its themes of slavery and freedom."--Kirkus
"Helgerson surrounds Zeb with a lively cast of scruffy no-goodniks, a determined slave, and a mystical Indian father-daughter duo, and lets the boy work out for himself whom to trust and how to act. A glossary at the end will help kids navigate Zeb's folksy-funny narration, separating simple "blimblam" from a full-on case of the "fantods." A solid choice for fans of high-spun yarns and not-too-tall tales."--Booklist
". . . the enormous cast of characters, all of whom open the door wide for a sequel to this rousing tale. A full house of appended author's notes, including information about apprenticeships, vision quests, and traveling medicine shows, provides rich historical background, while a glossary covers vivid colloquialisms and potentially unfamiliar words and terms."--Horn Book
"Zeb has a strong voice and personality . . . the supporting characters—including the chief's daughter and a slave named Ho-John—are well-defined. A thorough afterword and glossary nicely supplement the novel, but the quick resolution will leave readers wanting."--Publishers Weekly
"Helgerson has given us a notable and engaging piece of historical fiction that poses some of the biggest questions with which a young person must come to terms."-Richie's Picks
or
Not Currently Available for Direct Purchase