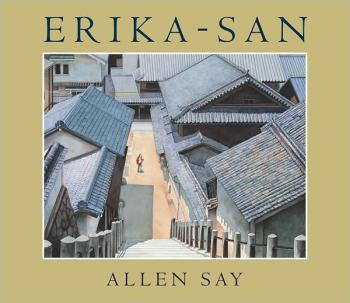 Erika-San (Hardcover)
HMH Books for Young Readers, 9780618889334, 32pp.
Publication Date: January 26, 2009
* Individual store prices may vary.
Description
Caldecott Medalist Allen Say creates a beautiful story about an American girl who seeks adventure in Japan and discovers more than she could have imagined.

In her grandmother's house there is one Japanese print of a small house with lighted windows. Even as a small girl, Erika loved that picture.

It will pull her through childhood, across vast oceans and modern cities, then into towns—older, quieter places—she has only ever dreamed about.

But Erika cannot truly know what she will find there, among the rocky seacoasts, the rice paddies, the circle of mountains, and the class of children.

For Erika-san, can Japan be all that she has imagined?
About the Author
Allen Say was born in Yokohama, Japan, in 1937. He dreamed of becoming a cartoonist from the age of six, and, at age twelve, apprenticed himself to his favorite cartoonist, Noro Shinpei. For the next four years, Say learned to draw and paint under the direction of Noro, who has remained Say's mentor. Say illustrated his first children's book -- published in 1972 -- in a photo studio between shooting assignments. For years, Say continued writing and illustrating children's books on a part-time basis. But in 1987, while illustrating THE BOY OF THE THREE-YEAR NAP (Caldecott Honor Medal), he recaptured the joy he had known as a boy working in his master's studio. It was then that Say decided to make a full commitment to doing what he loves best: writing and illustrating children's books. Since then, he has written and illustrated many books, including TREE OF CRANES and GRANDFATHER'S JOURNEY, winner of the 1994 Caldecott Medal. He is a full-time writer and illustrator living in Portland, Oregon.
Praise For Erika-San…
"Many themes—Erika's search for "old Japan"; the subtle chain of incidents that lead to love—may appeal most to older readers, perhaps even adults. Children with a strong curiosity about another culture, though, will recognize Erika's unwavering interest, and many readers will welcome the varied views of Japan, from city to town to tiny village reflected in Say's exquisitely rendered watercolors."—Booklist
"With luminous watercolors and economical text, Caldecott Medalist Say (Grandfather's Journey) tells of an American girl whose ingenuous hopes of reaching "old Japan" are finally realized . . . Say sprinkles Japanese words and definitions smoothly into the story as Erika surprises a male colleague (and readers) with the thoroughness with which she pursues her dream. Although the plot may prove slow going for many in the target audience, aficionados of Say's tranquil work will find both the message and the delivery deeply satisfying."—Publishers Weekly, starred review
"Expert angles and a touching sense of stillness make this piece visually masterful even while conceptually disquieting."—Kirkus Reviews
"Say's storytelling and art are as absorbing as ever; the illustrations of rural Japan will have adults yearning for their own remote farmhouse."—Horn Book
"Say's eloquent watercolors are a lesson in composition, with dramatic geometry, especially diagonals, bringing poise and elegance to what could otherwise be ordinary scenes."—The Bulletin
"Say's book makes a case for following your dreams, however inchoate and even . . . dreamlike they are."—New York Times Book Review Bookshelf
or
Not Currently Available for Direct Purchase