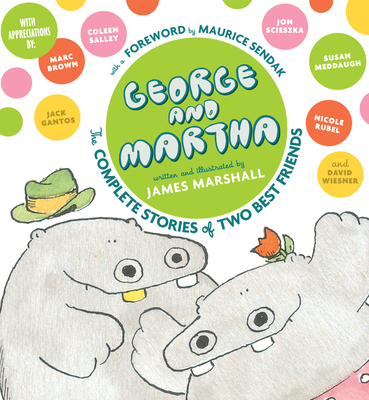 George and Martha
The Complete Stories of Two Best Friends Collector's Edition
Hardcover

* Individual store prices may vary.
Other Editions of This Title:
CD-Audio (4/23/2007)
Description
George and Martha, those incomparable hippos, will delight readers of all ages in these five funny, warm, and wonderful stories. This 368-page hardcover edition will bring joy and giggles for years and makes an excellent gift.
Like all best friends, George and Martha do everything together—go to the movies, play at the beach, and just hang around not doing much of anything. George and Martha teach each other (and adoring readers) that even in a close friendship, privacy is important, practical jokes can sometimes backfire, and among other things, pouring split pea soup into your loafers to spare the chef's feelings is not the best-laid plan.
A man with a talent for friendship, James Marshall defined its very essence in his stories about the world's two best friends. In this volume, all thirty-five episodes are brought together to celebrate friendship and two of the most lovable characters ever created. Each of these brief tales is filled with humor, and James Marshall's drawings are guaranteed to spark feelings of empathy, delight, and self-recognition.
This collector's edition includes an introduction by Maurice Sendak as well as appreciations by some of the top authors and illustrators working in children's publishing today. It is a true testament to James Marshall as an author, as an artist, and as a person that his work and his life inspired such a diverse and immensely talented group. Noted children's book historian Anita Silvey provides an afterword.
Praise For George and Martha: The Complete Stories of Two Best Friends Collector's Edition…
"Marshall...was a lion in children's publishing, and the humanity and humor of this lovely book will delight both children and adults."--The Buffalo News "Young readers will enjoy having these hilarious and heartwarming stories about these two delightful characters in one easy-to-access place, while adults will value the commentary, which touches upon Marshall's personality as well as his artistic genius."--SLJ Extra Helping "[George and Martha] remain . . . two of the more elegant and finely detailed characters in children's literature . . . The new George and Martha: The Complete Stories of Two Best Friends will guarantee at least a month of delightful bedtimes. It will produce belly laughs to be treasured by the moms, dads and grandparents."--The Sunday Plain Dealer "The stories are super short—indeed, that is part of their charm—and always leave readers and listeners wanting more. The best reviews come from the little experts who sit on laps and hear these stories for the first or 500th time. George and Martha are, quite simply, tons of fun."--BookPage Wichita Eagle, Great Gift Recommendations 2008 —
Clarion Books, 9780618891955, 368pp.
Publication Date: September 1, 2008
About the Author
James Marshall (1942–1992) created dozens of exuberant and captivating books for children, including The Stupids, Miss Nelson Is Missing!, and the ever-popular George and Martha books. Before creating his canon of classic, hilarious children's books, James Marshall played the viola, studied French, and received a master's degree from Trinity College. He also doodled. It was the doodles, and the unforgettable characters that emerged from them, that led him to his life's work as one of the finest creators of children's books of the twentieth century. In 2007, James Marshall was posthumously awarded the Children's Literature Legacy Award for his lasting contribution to literature for children.