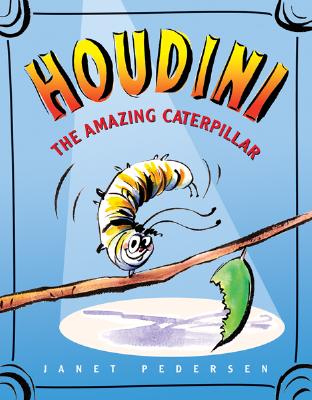 Houdini the Amazing Caterpillar
Hardcover

* Individual store prices may vary.
Description
Houdini, a classroom caterpillar who loves an audience, performs his most amazing trick of all in this magical picture book. Houdini the caterpillar loves the spotlight. And he has the best audience any performer could ask for: a classroom full of children. But when his usual tricks stop amazing his audience, Houdini needs to come up with a new act—something bold and colorful, something daring and surprising. Something his audience won't want to miss! What could it be? Kindergarteners won't be surprised by Houdini's final feat—after all, caterpillars and butterflies are in the curriculum of almost every kindergarten class in the country. And the book includes an Author's Note explaining the metamorphosis process.
Praise For Houdini the Amazing Caterpillar…
"Houdini the caterpillar entertains a class of students with his amazing acts, including the vanishing leaf, the high-wire stick crawl, and his skin-shedding growth. With his flair for showmanship, he revels in his audience's appreciation. When new acts show up-a turtle, spider, and plant-and draw his crowds of children away, Houdini spices up his performances to make them even more dramatic. Alas, even this does not bring back the masses. Then one evening, inspired by posters depicting the stages of a caterpillar's life on the classroom wall, he attempts "his most daring act ever." His place in the spotlight is regained as his audience waits in anticipation for two weeks as he holds his pose without food or water and finally escapes his chrysalis and emerges as a butterfly-"Ta-Da!" Pedersen's ink and watercolor cartoons are detailed without being fussy. Houdini's facial expressions demonstrate both the highs and lows of being a performer. Meanwhile, his captivated audience is shown drawing him, wearing homemade caterpillar antennae, imitating his chrysalis stage, and watching Houdini adoringly. The particulars of a caterpillar's life cycle are covered in detail in the author's note. This fun and informative story has a place in classrooms everywhere."--School Library Journal "Houdini the caterpillar is destined for greatness. In a tank in a classroom, this outgoing tyke performs tricks for his children, confidently achieving "amazing and magical things." He devours leaves, defies gravity on the high wire and sheds his skin with astonishing flair. Initially, he impresses his students, but their interests wane when other interesting inhabitants arrive. No longer the center of attention, Houdini spies wall hangings depicting a familiar life cycle and realizes exactly how he can reclaim his starring role. As he undergoes metamorphosis, the children take note. His climactic conversion engulfs the page, his wings the dominant feature in a prominent double-page spread. Mixed-media illustrations brilliantly emphasize Houdini's dark, bushy eyebrows and wide-eyed expressions through abrupt lines; the small caterpillar fills each page with tremendous energy until his glorious transformation. An author's note broadly describes monarch butterflies and their life cycle; a brief feature on the world-renowned magician is included. Emotionally and artistically, it's Houdini's perspective, with his earnest exuberance, that steals the show."--Kirkus Reviews "The metamorphosis from egg to caterpillar to butterfly is as thrilling as any fairy-tale transformation, and this picture book tells the astonishing science through the personal viewpoint of Houdini, a tiny caterpillar in a dynamic grade-school classroom. Big, clear artwork in watercolors and liquid inks shows the smiling, hungry little caterpillar basking in the attention from a teacher and pupils who make drawings of him and watch as he sheds his skin. Then he gets jealous when they switch attention to the turtle, the spider, and the plants, and a great illustration shows him seething ("What's the big deal?" he asks about the spider). Then Houdini hangs suspended in a small chrysalis; no food, no water, for almost two weeks; and the class watches with mounting suspense until he breaks free and the gorgeous butterfly fills the spread. On the next page, he flies free outside. An author's final note fills in the fact about the life cycle. The fantasy and the realism make the nature story fun for home and classroom."--Booklist
Clarion Books, 9780618893324, 40pp.
Publication Date: September 8, 2008
About the Author
Janet Pedersen has illustrated several picture books, several of which she has also written including: MILLIE IN THE MEADOW, MILLIE WANTS TO PLAY, and PINO AND THE SIGNORA'S PASTA (all Candlewick). She lives with her family in New York.
or
Not Currently Available for Direct Purchase