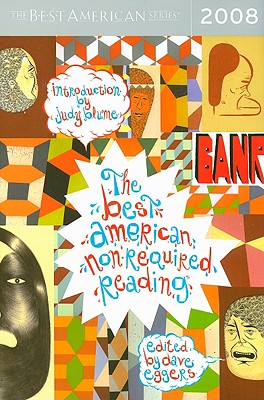 The Best American Nonrequired Reading 2008
Hardcover

* Individual store prices may vary.
Other Editions of This Title:
Paperback (10/8/2008)
Paperback (10/10/2003)
Paperback (10/11/2006)
Paperback (10/10/2007)
Paperback (10/2/2012)
Paperback (10/8/2009)
Compact Disc (10/15/2002)
Hardcover (10/1/2006)
Paperback (10/4/2011)
Hardcover (10/1/2007)
Hardcover (10/1/2004)
Hardcover (10/1/2005)
Paperback (10/1/2004)
Paperback (10/8/2013)
Description
From the Introduction, Featuring an Interview with Judy Blume

The book you're holding is part of a series which every year seeks to compile a varied and unexpected anthology of fiction, nonfiction, essays, journalism, comics, and humor. The books in the Nonrequired series are still assembled in much the same way they've always been—passionately and unscientifically. This anthology, part of the Best American juggernaut that includes everything from the original Best American Sheetrock Poetry to the newest addition, Best American Canadian Marsupial Short Fiction Featuring Lewd Woodworking, is considered the best of them all, chiefly because ours usually features the highest volume of cursing.

In an effort to keep the collection moving in new ways and avoid litigation, we decided to ask questions of our guest introducer, the unimprovable Judy Blume.

There's actually a piece in this collection called Are You There God? It's Me. Also, a Bunch of Zombies. Is this the first time someone has adapted one of your titles to apply to the undead?
Judy Blume: As far as I know this is the first time my title has been adapted to apply to the undead. Let's hope it's the last? I've told my husband I think I should have a headstone someday that reads: ARE YOU THERE GOD? IT'S ME . . .
JUDY BLUME Or would that be too weird?

Was it important for you to put positive moral values in your young adult books?
JB: I don't think the best stories come out of a place where the author is determined to put in positive moral values. I mean, whose values? I'm happy when my characters behave in an ethical way. But they're not always going to. An exception was Forever . . . I wanted to show two decent teens taking responsibility for their actions. But really, I'm just telling stories. I hope my readers will come away thinking. I hope they find something in my books they can relate to, something that illuminates life for them.

Were you like any of the characters in your books?
JB: I was like my character Sally Freedman. I had a lot of imagination. Often, what I imagined was worse than reality. Starring Sally J. Freedman as Herself is my most autobiographical book. My fourth-grade teacher, whom I fictionalized in Sally J., recently died. I met up with her when Double Fudge was published and she came to a talk/signing in the Miami area. It was a thrill to introduce her to the audience. My sixth-grade experience was like Margaret's in Are You There God? It's Me, Margaret. And yes, I did those breast-enhancement exercises. (And no, they didn't work for me.)
Houghton Mifflin Harcourt, 9780618902828, 400pp.
Publication Date: October 1, 2008
or
Not Currently Available for Direct Purchase