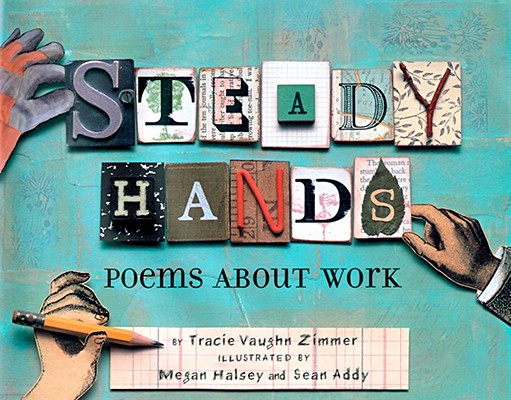 Steady Hands (Hardcover)
Poems About Work
Clarion Books, 9780618903511, 48pp.
Publication Date: February 16, 2009
* Individual store prices may vary.
Description
In this collection of free-verse poems, inspired by Walt Whitman's I Hear America Singing, Tracie Vaughn Zimmer celebrates workers and the doing of work. The poems are short and direct, with strong, fresh images, and readers can easily imagine themselves in the roles she portrays: welder, librarian, surgeon, retail clerk, camp counselor. The illustrations are as original as the text---amazing multilayered collages made of paper, found objects, ephemera, photographs, dried flowers, and archival images. Steady Hands is sure to inspire discussion, creative writing, art projects, and new answers to the old question: What do you want to do when you grow up?
About the Author
Tracie Vaughn Zimmer, a former middle-school teacher, is the author of three books, including Sketches from a Spy Tree, published by Clarion. She and her family live near Charlotte, North Carolina. For more information visit www.tracievaughnzimmer.com.
Praise For Steady Hands: Poems About Work…
"Walt Whitman's "I Hear America Singing" receives an invigorating revival in this poetry collection that illuminates the pressures and pleasures of work, including some 34 career choices. "Morning" conveys the vigorous energy work demands through crisp imagery and dynamic phrases: "Engines hum / heels click / and doors thud / behind ambitions." Poems often describe the ordinary and technical components of the job; "Librarian" features a male librarian's preparation for his boys-only book club. Others elucidate the surprising motivations behind workers' chosen career paths; "Dog Walker" reveals that a former attorney sought this less stressful career because "the predictable company of dogs / ...didn't give him nightmares / or cold sweats / the way standing before / a glowering judge and jury did." Halsey and Addy's illustrations match the emotions of the varied subjects, the mixed-media art exuding a muted grittiness as characters perform their daily tasks. Compiled photographs, papers and household objects create multifaceted collages and textured backdrops, and the result is an intriguing, albeit offbeat, examination of the world of work."--Kirkus Reviews
"Inventive, complicated collages and well-crafted poems focus on the activities of working people in this eye-catching book. With an observant eye, Zimmer (Sketches from a Spy Tree) captures different individuals performing work with "steady hands." She details the "flap/ roll/ flap" of the baker kneading dough or the way a clerk performs "a ballet/ of hands" as she sorts, scans and bags groceries. Sometimes she gives the worker a backstory or views him after hours-a former lawyer prefers "the predictable company of dogs" and becomes a dog walker, while the exterminator doesn't mind the guys at the bowling alley "calling him Roach." Halsey and Addy's (Amelia to Zora) hip collages combine individual cut-outs of people along with drawings, photos, textured backgrounds and designs. The aspiring filmmaker pops out of a box of movie popcorn while the tow-truck driver "fishes in the city," literally reeling in cars. The sophisticated look should generate plenty of interest from the target audience."--Publishers Weekly, STARRED review
"From teacher, artist, and programmer to tow-truck driver, cafeteria cook, and surgeon, people at work are the subjects of every short, free-verse poem in this picture-book collection.  The lively mixed-media illustrations, with spacious collage, show what workers do on the job.  As in the book's title, the focus is on the busy hands: the baker's "disappear / and reappear / in the folds of dough"; "flowers burst from the palms of the florist."  A few pages glimpse the world of grownups, as with the gloomy dog-walker, once part of a law firm, no glad that "a dog's mess / can be cleaned up."  Several are about young people at work babysitting, at computers, or at the grocery store.  The hands-on details blend dreams and realism in the upbeat, contemporary poems that will find a place across the curriculum."--Booklist
or
Not Currently Available for Direct Purchase