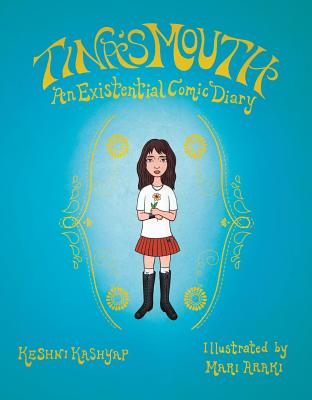 Tina's Mouth
An Existential Comic Diary
Hardcover

* Individual store prices may vary.
Description
In the tradition of Persepolis and American Born Chinese, a wise and funny high school heroine comes of age.

Tina M., sophomore, is a wry observer of the cliques and mores of Yarborough Academy, and of the foibles of her Southern California intellectual Indian family. She's on a first-name basis with Jean-Paul Sartre, the result of an English honors class assignment to keep an "existential diary."

Keshni Kashyap's compulsively readable graphic novel packs in existential high school drama—from Tina getting dumped by her smart-girl ally to a kiss on the mouth (Tina's mouth, but not technically her first kiss) from a cute skateboarder, Neil Strumminger. And it memorably answers the pressing question: Can an English honors assignment be one fifteen-year-old girl's path to enlightenment?

Praise For Tina's Mouth: An Existential Comic Diary…
"Keshni Kashyap's words and Mari Araki's illustrations combine to wonderful effect in this honest and funny graphic novel." —Entertainment Weekly (Must List)"Tina Fey's snarky humor in a teenager's body and we really can't get enough." —Nylon Magazine"Instead of just charting the discoveries of a smart kid's adolescence, Tina's Mouth can make you feel them. This is familiar material, yes, but it's familiar in the way of philosophy and pop songs can be: At their best, the breathless feelings, dramatized by Kashyap and Araki might match up to a corresponding one in you—and then set it off like fireworks." — San Francisco Weekly"Slangy and funny and honest, like a mix of John Hughes, J.D. Salinger and Marjane Satrapi." — The A.V. Club A "charming coming-of-age tale." --Publishers Weekly"Kashyap's story is clever and genuinely felt...Araki's quirky black-and-white art suits the story well and amplifies the tide of events...A complete package that gives both Sartre and Tina their due." — Booklist, STARRED review"With her deadpan wit and gift for observation, Kashyap's Tina brings to mind any number of disaffected teens, but she is also, at heart, a very good girl. A charming, hip, illustrated coming-of-age tale." — Kirkus Reviews"A completely charming voice...will delight fans of Sartre and Salinger alike." — Aimee Bender, author of The Particular Sadness of Lemon Cake "Kashyap perfectly captures the universal angst of high school and puts her own unique, wickedly smart spin on it." —Janelle Brown, author of All We Ever Wanted Was Everything"Kashyap captures the high school universe and articulates teenage angst with a finesse and dry wit that will charm fans of Catcher in the Rye and Juno." — Hyphen Magazine
Houghton Mifflin Harcourt, 9780618945191, 256pp.
Publication Date: January 3, 2012
About the Author
Keshni Kashyap was raised in Los Angeles, California. She studied literature at Berkeley and film at UCLA. Tina's Mouth: An Existential Comic Diary is her first book.
Illustrator Mari Araki, an artist and storyteller, was raised in Ishikawa, a suburb of Kanazawa.  She is a graduate of Art Center College of Design in Pasadena, California, and lives in Southern California.