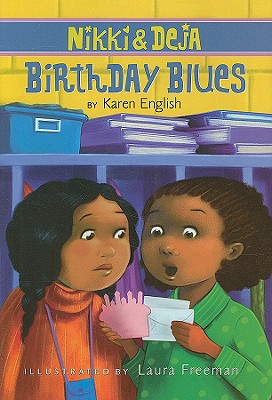 Nikki and Deja
Birthday Blues: Nikki and Deja, Book Two
Hardcover

* Individual store prices may vary.
Other Editions of This Title:
Paperback (10/14/2014)
Paperback (1/18/2010)
Hardcover (12/17/2013)
Description
The second book about Nikki and Deja, two African American third-grade girls who are best friends.
Deja's birthday is coming up, and she's been talking about it for weeks. But just before the big day, Auntie Dee gets called away on a business trip and Deja must stay with an elderly neighbor . . . who cooks turnips for dinner and doesn't even have a color TV! Worse, the machinations of spoiled Antonia, Deja's new nemesis, threaten to ruin Deja's birthday party plans. Like the first book, this story captures with subtlety and humor all the small betrayals and triumphs of young girls' relationships. Readers will get a wider view of the girls' diverse urban neighborhood, and will recognize themselves and their classmates in the colorful, deftly drawn school scenes. A more serious theme is also introduced (with a light touch) in a subplot concerning Deja's absent father.
Praise For Nikki and Deja: Birthday Blues: Nikki and Deja, Book Two…
"Deja can't wait for her birthday party: the presents, the games, the hope that 'this time my daddy might come for my birthday.' When Deja's classroom nemesis tries to siphon off the guests to her own party, Deja's high spirits fizzle, but her best friend Nikki, her guardian Auntie Dee, and an elderly neighbor keep her moving forward. The realistic view of Deja's week and the sensitive yet never soppy portrayal of characters make this a fine entry in the Nikki & Deja series, one of the few early-chapter-book series featuring African American girls."
—Booklist
"Little girls, little girls...they can be mean sometimes. Deja's birthday is coming up, and she is filed with all the anticipation a soon-to-be-eight-year-old can hold. Will her absent father come? Will she get the special ring from her Auntie Dee? Things fall apart when Antonia, Deja's nemesis, decides to have a 'just because' sundae-and-trampoline party at the same time, with the result that everyone chooses Antonia's party. This straightforward plot explores Deja's reaction to the unexpected turn and makes few judgments of who is right and wrong. Perhaps Antonia is jealous of Deja and Nikki's close friendship? Maybe she didn't sabotage Deja's party? In the end, when Deja finds out how much she means to her Auntie, she gets the best present of all. A clear typeface, ample white space and Freeman's occasional black-and-white illustrations make this accessible to new chapter-book readers, although a note printed in unlinked cursive might confuse some. Likeable and independent African-American girls are a rare find in early chapter books—let's hope these two can start a trend."
—Kirkus Reviews
"In this successor to Nikki & Deja (Clarion, 2008), Deja looks forward to her eighth birthday party. While her father's absence has taken its toll, she hopes that he will come to the celebration. A few days before the event, Auntie Dee unexpectedly leaves for a business trip, and Deja must stay with their neighbor, Miss Ida, who serves turnips and has a black-and-white TV. At school, Deja learns that her 'nemesis,' as Miss Ida calls Antonia, intends to hold an extravagant 'Just Because' bash that will coincide with Deja's more modest plans. Deja worries that their classmates will choose to go to Antonia's party. Thankfully, her friend Nikki provides constant support, and Auntie Dee's return results in clarity and perspective. The narrative is a bit contrived, although it is realistic that there is no resolution of Deja's longing for her father. Early chapter-book readers will relate to the protagonist's authentic emotions as English acknowledges the challenges and complexities of classroom life."
—School Library Journal
"An accessible story of recognizably real grade-school politicking and enduring friendship that's suitable for reading aloud or alone. Fans of the duo will rejoice at their return."
—The Bulletin of the Center for Children's Books
Clarion Books, 9780618977871, 96pp.
Publication Date: January 19, 2009
About the Author
Karen English is a Coretta Scott King Honor Award-winner and the author of It All Comes Down to This, a Kirkus Prize Finalist, as well as the Nikki and Deja and The Carver Chronicles series. Her novels have been praised for their accessible writing, authentic characters, and satisfying storylines. She is a former elementary school teacher and lives in Los Angeles, California.
Laura Freeman has illustrated several books for young readers, including the Nikki and Deja and Carver Chronicles series, and Natalie's Hair Was Wild, which she also wrote. Laura grew up in New York City, and now lives in Atlanta, Georgia, with her husband and two children. www.lfreemanart.com Twitter: @LauraFreemanArt.
or
Not Currently Available for Direct Purchase